His Victorious Indwelling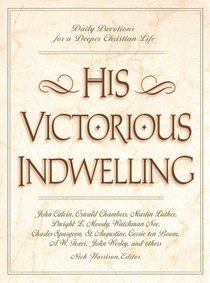 This book is a daily devotional organized around the theme of living a deeper, more Christ-like life with selections from writers past and present associated with this theme.

- Publisher Have you truly grasped the remarkable heritage that is yours in Christ? Through the years, certain Christians have stood out for their deep insight into the riches we possess in Christ. Oswald Chambers, A. W. Tozer, Hannah Whittal Smith, D. L. Moody, E. M. Bounds . . . these men and women knew the secrets of the abundant spiritual life. Drawing on the meditations and quotes from these and other well-know writers, His Victorious Indwelling explores Christ's victory and how it can be lived through us. These 366 daily devotions bring together the best writings of such classic authors as John Calvin, Martin Luther, Watchman Nee, Charles Spurgeon, St. Augustine, and John Wesley, as well as contemporary writers such as Corrie ten Boom. These and dozens of others will help you discover the power, liberty, and joy that flow from "Christ in us."

- Publisher
You May Also Be Interested In
About "His Victorious Indwelling"
This book is a daily devotional organized around the theme of living a deeper, more Christ-like life with selections from writers past and present associated with this theme.
- Publisher

Have you truly grasped the remarkable heritage that is yours in Christ? Through the years, certain Christians have stood out for their deep insight into the riches we possess in Christ. Oswald Chambers, A. W. Tozer, Hannah Whittal Smith, D. L. Moody, E. M. Bounds . . . these men and women knew the secrets of the abundant spiritual life. Drawing on the meditations and quotes from these and other well-know writers, His Victorious Indwelling explores Christ's victory and how it can be lived through us. These 366 daily devotions bring together the best writings of such classic authors as John Calvin, Martin Luther, Watchman Nee, Charles Spurgeon, St. Augustine, and John Wesley, as well as contemporary writers such as Corrie ten Boom. These and dozens of others will help you discover the power, liberty, and joy that flow from "Christ in us."
- Publisher


Meet the Author
Nick Harrison (Ed)
Harrison writes religious books. He lives in Eugene, Oregon.
Table Of Contents
Acknowledgments

Introduction

January

February

March

April

May

June

July

August

September

October

November

December

Afterword

Scripture Index

Author Index

Permissions
Excerpt
Excerpt from: His Victorious Indwelling
Introduction More than a hundred years ago, Presbyterian minister Dr. Adolph Saphir observed, 'If we review the history of the church, we notice how many important truths, clearly revealed in Scripture, have been allowed to lie dormant for centuries, unknown and unappreciated except by a few isolated Christians, until it pleased God to enlighten the church by chosen witnesses. Then He bestowed on His children the knowledge of hidden and forgotten treasures. For how long a period, even after the Reformation, were the doctrines of the Holy Ghost, His work in conversion, and His indwelling in the believer, almost unknown!' How long indeed. Even today many Christians are wholly unaware of the spiritual resources they possess in Christ. Nor do most believers in Christ daily experience an awareness of the indwelling presence of the Holy Spirit in their lives. And yet at what time in history has the Christian church and her teachings been so widely disseminated? Our church services are broadcast daily on television and radio; Christian literature is abundantly available in both Christian and secular bookstores, and evangelistic rallies routinely fill stadiums with eager listeners. Yet for all this exposure, the perception of many is that the depth of our Christian life and witness is perhaps a mile wide, but an inch deep. We believe Christian principles and doctrines, but how different are our homes, our neighborhoods, and especially our individual lives from those of our unbelieving neighbors? Perhaps Dr. Saphir's comments on the dormancy of the Scriptural truth of the Holy Spirit's indwelling the believer have some bearing here. For all our talk about the Holy Spirit, do we know Him as our indwelling life? Can we say with Paul that it's 'no longer I, but Christ liveth in me'? I believe many Christians are genuinely hungry for a deeper walk with their God. Some, in frustration, turn to aberrant teachings about the Holy Spirit, expecting Him to somehow cause their behavior to change in some dramatic and flashy manner under the guidance of a dynamic pulpit personality. Yet God chooses to work on us from the inside out. He wants to live His life through us, by the agency of His Spirit, so that our lives reflect the presence of Christ to those around us. There will indeed be dramatic change in the Christian who purposes to know God and His victorious indwelling --- but it will be largely through the process of learning to abide in Christ, rather than an instantaneous divine 'touch' from God. Down through the centuries, as Dr. Saphir noted, there have been 'chosen witnesses' who understood the importance of this divine truth of Christ's indwelling and taught it with great vigor. Over the course of the next year, these 'chosen witnesses' will once again speak to us about God's indwelling the believer and other related teachings associated with the 'deeper life.' Some of these men and women, unknown to most Christians, came out of the Brethren movement of the 19th century, when John Darby, Edward Dennett, George Wigram, J. B. Stoney, and other men of God began to understand the importance of this neglected truth of the indwelling Holy Spirit. Because of their intense devotion to this neglected principle of the Christian life, the reader will find, on the following pages, numerous entries from these early Brethren writers --- many of whose writings are still in print and widely recommended for those who desire further reading in the 'deeper life.' Late in the 19th century, conferences were held in the Keswick region of Great Britain, largely devoted to this re-emerging truth. Those 'Keswick' conferences continued well into the last half of the twentieth century and produced many fine teachers of God's Word on this subject --- several of whom are represented on the following pages. Other isolated believers down through the history of the Church have well understood 'His victorious indwelling' and sought to teach it where they could. Some, such as Madame Jeanne Marie Bouvier Guyon, were imprisoned for their teaching. George Fox of the Quakers knew the importance of an intimate walk with God. St. Bernard of Clairvaux also understood, as did Dutch Reformed pastor Andrew Murray. In our own century, Watchman Nee, the great Chinese Christian teacher was adamant about the importance of living what he simply called the 'normal Christian life.' Missionary to China Hudson Taylor's term was the 'exchanged life,' wherein the believer's life of defeat is 'exchanged' for the victorious life of Christ. Others have referred to it as the 'Christ-life.' Hannah Whitall Smith referred to it as 'the Christian's secret of a happy life,' which became the title of her classic book, still in print more than a century after it was first published. The teachings themselves have sometimes been called the 'Keswick' teachings or the 'identification truths of Scripture.' Whatever name we choose to call it, let it be, not just teaching, but true of us in experience. The unbelieving world awaits the witness of a generation of Christians who will show forth the Christ in whom they believe. One final note: Although the emphasis of His Victorious Indwelling is Christ's presence in the believer, not all of the readings express this theme overtly. In some cases, I've chosen to include worthy thoughts by these godly writers that, while still in the spirit of His victorious indwelling, address tangential issues of interest to the believer seeking the deeper life. It's my prayer that this next year will bring each reader into a deeper experience of 'His victorious indwelling.'