Holding Serve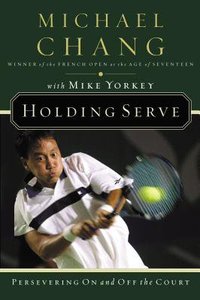 Often characterized as David facing Goliath on the tennis court, at 5'9" and 150 pounds Michael Chang is used to playing with the big hitters. What he lacks in stature, he makes up for in determination. A serious contender at any Grand Slam event, his bold statement of faith in God makes him a role model we can all look up to. "What's nice," Michael says, "is that, as long as my priorities are straight, I'm able to go out with the mentality to really leave the winning and losing up to the Lord." In Holding Serve readers get a unique glimpse at Team Chang, Michael's powerful family unit that he credits with much of his success. Michael also shares the story of how he became a Christian and the central role his faith has played in his achievements.

- Publisher
You May Also Be Interested In
About "Holding Serve"
Often characterized as David facing Goliath on the tennis court, at 5'9" and 150 pounds Michael Chang is used to playing with the big hitters. What he lacks in stature, he makes up for in determination. A serious contender at any Grand Slam event, his bold statement of faith in God makes him a role model we can all look up to. "What's nice," Michael says, "is that, as long as my priorities are straight, I'm able to go out with the mentality to really leave the winning and losing up to the Lord." In Holding Serve readers get a unique glimpse at Team Chang, Michael's powerful family unit that he credits with much of his success. Michael also shares the story of how he became a Christian and the central role his faith has played in his achievements.
- Publisher


Meet the Authors
Michael Chang
Coming from the juniors as a fifteen-year-old, Michael Chang set numerous "youngest player" records. In 1987, he was the youngest player to win a main draw match at the U.S. Open and the youngest to reach a Tour semifinal. As the youngest French Open/Grand Slam Champion ever in 1989, Chang was the first American male to win the French Open since 1955, and he became the youngest player to rank in the Top 5. In 1991, he reached the quarterfinals or better in thirteen tournaments. Chang is considered one of the fastest players on the circuit, possessing an all-court game.
Mike Yorkey
Mike Yorkey, with thirty books to his credit, is a long-suffering San Diego Padres fan living in Encinitas, California. He most well known as the editor and author of Every Man Series