Hole in Our Gospel, the (Unabridged, 9 Cds) (Special Edition)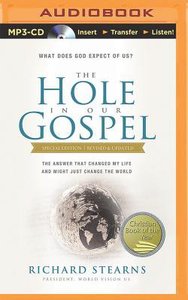 WHAT DOES GOD EXPECT OF US? THE ANSWER THAT CHANGED MY LIFE AND MIGHT JUST CHANGE THE WORLD
Also Available In
:What does God expect of us? Is our faith only about going to church, studying the Bible, and avoiding the most serious sins?or does God expect more? Have we embraced the whole gospel or a gospel with a hole in it? Fifteen years ago Rich Stearns came face-to-face with that question as he sat in a mud hut in Rakai, Uganda, listening to the heartbreaking story of an orphaned child. Stearns's journey there took much more than a long flight to Africa. It took answering God's call on his life, a call that tore him out of his corner office at one of America's most prestigious corporations?to walk with the poorest of the poor in our world. Marking its fifth year, this anniversary edition of The Hole in Our Gospel features new content along with full-color graphics on poverty statistics, a guide for churches on short-term missions and international engagement, and an index of Scripture on poverty, justice, faith in action, and more. The Hole in Our Gospel changed people's lives, and some of those personal accounts also appear in this anniversary edition. Stearns? compelling story demonstrates that the whole gospel was always meant to be a world-changing, social revolution, a revolution that begins with each one of us.

- Publisher
Also Available In
You May Also Be Interested In
About "Hole in Our Gospel, the (Unabridged, 9 Cds) (Special Edition)"
:What does God expect of us? Is our faith only about going to church, studying the Bible, and avoiding the most serious sins?or does God expect more? Have we embraced the whole gospel or a gospel with a hole in it? Fifteen years ago Rich Stearns came face-to-face with that question as he sat in a mud hut in Rakai, Uganda, listening to the heartbreaking story of an orphaned child. Stearns's journey there took much more than a long flight to Africa. It took answering God's call on his life, a call that tore him out of his corner office at one of America's most prestigious corporations?to walk with the poorest of the poor in our world. Marking its fifth year, this anniversary edition of The Hole in Our Gospel features new content along with full-color graphics on poverty statistics, a guide for churches on short-term missions and international engagement, and an index of Scripture on poverty, justice, faith in action, and more. The Hole in Our Gospel changed people's lives, and some of those personal accounts also appear in this anniversary edition. Stearns? compelling story demonstrates that the whole gospel was always meant to be a world-changing, social revolution, a revolution that begins with each one of us.
- Publisher


Meet the Authors
Richard Stearns
Richard Stearns brought nearly 25 years of corporate experience to World Vision when he became the president of its US operations in June 1998. Stearns holds an MBA form the Wharton School at the University of Pennsylvania. His professional career began in marketing with the Gillette Company. From 1977 to 1985, he held various roles with Parker Brothers Games, culminating in his appointment as president in 1984. In 1985, he became a vice president at The Franklin Mint, then joined Lenox in 1987 as president of Lenox Collections. In 1995, Stearns was named president and chief executive officer of Lenox Inc. As president of World Vision Inc., Stearns is responsible for US operations, which include fund raising, advocacy, and program development. Stearns and his wife, Renee, have been World Vision supporters since 1984. They have five adult children and live in Bellevue, Washington.