Holiday Defenders - Mission: Christmas Rescue / Special Ops Christmas / Homefront Holiday Hero (3 Books in 1) (Love Inspired Suspense Series)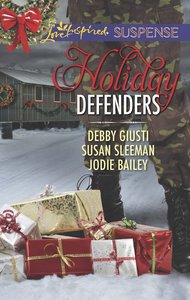 This holiday season, three military men of honor must do everything they can to save Christmas.Mission: Christmas Rescue by Debby GiustiOn the run from a killer, Elizabeth Tate must accept U.S. Army captain Nick Fontaine's protection for the sake of her young niece and nephew. Now her life is in the hands of the very man who broke her heart years ago.Special Ops Christmas by Susan SleemanResearcher Claire Reed's top-secret project is stolen, putting her at risk of being kidnapped to unlock it. Her undercover bodyguard-her former love, Green Beret Travis Chapman-is on his most dangerous mission yet.Homefront Holiday Hero by Jodie BaileyWhen someone tries to kill the daughter of a military official, U.S. Army Major Tyler Rainey must keep Meredith Walters from harm...while guarding his own heart against very unexpected feelings.

- Publisher
You May Also Be Interested In
About "Holiday Defenders - Mission: Christmas Rescue / Special Ops Christmas / Homefront Holiday Hero (3 Books in 1) (Love Inspired Suspense Series)"
This holiday season, three military men of honor must do everything they can to save Christmas.Mission: Christmas Rescue by Debby GiustiOn the run from a killer, Elizabeth Tate must accept U.S. Army captain Nick Fontaine's protection for the sake of her young niece and nephew. Now her life is in the hands of the very man who broke her heart years ago.Special Ops Christmas by Susan SleemanResearcher Claire Reed's top-secret project is stolen, putting her at risk of being kidnapped to unlock it. Her undercover bodyguard-her former love, Green Beret Travis Chapman-is on his most dangerous mission yet.Homefront Holiday Hero by Jodie BaileyWhen someone tries to kill the daughter of a military official, U.S. Army Major Tyler Rainey must keep Meredith Walters from harm...while guarding his own heart against very unexpected feelings.
- Publisher


Meet the Authors
Debby Giusti
Debby Giusti is a medical technologist who loves working with test tubes and petri dishes almost as much as she loves to write. Growing up as an Army Brat, Debby met and married her husband--then a Captain in the Army--at Fort Knox, Kentucky. Together they traveled the world, raised three wonderful Army Brats of their own and have now settled in Atlanta, Georgia, where Debby spins tales of suspense that touch the heart and soul.
Susan Sleeman
Susan lives in sunny Florida, but has had the pleasure of living in nine states. She and her music director husband have two beautiful daughters, a very special son-in-law and an adorable grandson. She has loved mystery and suspense books since reading her first Nancy Drew mystery. Susan now channels that enthusiasm into hosting TheSuspenseZone.com and writing romantic suspense and mystery novels. To learn more about Susan and her books, please visit SusanSleeman.com.
Jodie Bailey
Jodie Bailey is an avid reader and a life-long writer. When not tapping at the keyboard, she teaches middle schoolers how to love the written word and follows her Army husband around the country. Jodie is a member of American Christian Fiction Writers and Middle Tennessee Christian Writers. She lives in North Carolina with her husband and daughter.
Other Titles In The "Love Inspired Suspense Series" Series View All