Holiness By Grace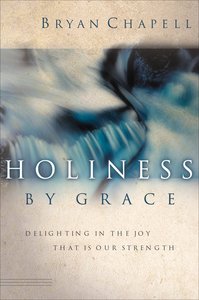 How can God expect us to be as holy as He is? He is infinitely pure and we are clearly imperfect. God's grace reminds us that the standard for entrance into His kingdom has already been met on our behalf. Yet righteousness is still a requirement for the Christian life because it glorifies God and protects us from spiritual harm.A gifted preacher and teacher, Bryan Chapell illustrates the principles of grace, the practices of faith and the motives of love in relation to our living a life of holiness. Readers will journey through key biblical texts that remove our performance as a means of establishing or maintaining our salvation but that also confirm the emphasis on obedience as a grateful response to God's mercy. This book encourages readers that when they understand God's love for His children never wavers, then His grace will quicken their steps, strengthen their hearts and delight their souls to carry on.

- Publisher 288 pages

- Publisher
You May Also Be Interested In
About "Holiness By Grace"
How can God expect us to be as holy as He is? He is infinitely pure and we are clearly imperfect. God's grace reminds us that the standard for entrance into His kingdom has already been met on our behalf. Yet righteousness is still a requirement for the Christian life because it glorifies God and protects us from spiritual harm.A gifted preacher and teacher, Bryan Chapell illustrates the principles of grace, the practices of faith and the motives of love in relation to our living a life of holiness. Readers will journey through key biblical texts that remove our performance as a means of establishing or maintaining our salvation but that also confirm the emphasis on obedience as a grateful response to God's mercy. This book encourages readers that when they understand God's love for His children never wavers, then His grace will quicken their steps, strengthen their hearts and delight their souls to carry on.
- Publisher

288 pages
- Publisher


Meet the Author
Bryan Chapell
Bryan Chapell (Ph.D., Southern Illinois University) is the president of Covenant Theological Seminary and a former pastor who is a widely traveled speaker in the United States and abroad. He is also the author of numerous books, including the Gold Medallion finalist Holiness by Grace, as well as Praying Backwards and the award-winning Christ-Centered Preaching. Most recently he has produced Ephesians (Reformed Expository Commentary).
Koorong-Editorial Review.