Holiness, Truth and the Presence of God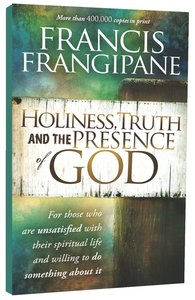 This book is for all those who are unsatisfied with their progress in the spiritual life and are willing to do something about it! Francis Frangipane challenges readers to seek the fullness of God's anointing, and provides the biblical support to equip them.
You May Also Be Interested In
About "Holiness, Truth and the Presence of God"
This book is for all those who are unsatisfied with their progress in the spiritual life and are willing to do something about it! Francis Frangipane challenges readers to seek the fullness of God's anointing, and provides the biblical support to equip them.
- Koorong


This is a book for those who are unsatisfied with their spiritual progress and willing to do something about it. It is for every believer who feels he cannot exist unless he finds the fullness of God. Frangipane describes the path toward true holiness with these words: "It is a path full of both life and death, perils and blessings. It is a path upon which you will be challenged, empowered, provoked, and crucified. But you will not be disappointed. If it is God you seek, it is God you will find." Our goal is to seek and to find the holiness that leads us into the true presence of God. If you are faithful to your goal of Christlikeness, God will give you the grace to live in His presence. And when Christ, who is your life, is revealed, you also will be revealed with Him in glory (Col. 3:3-4). And as you persist with the Almighty, the sacred fire of His presence will consume the wood, hay, and stubble of your former ways. Power such as Jesus had will reside in your innermost being. Angels will stand in awe, for your gold will be refined, your garments light, and your life holy.
- Publisher
Meet the Author
Francis Frangipane
Francis Frangipane is senior pastor of River of Life Ministries in Cedar Rapids, Iowa, which he began in 1989. Publication of Francis' book The Three Battlegrounds in 1989 fueled demand for him as an international conference speaker. Since 1996, Pastor Frangipane has hosted a half-hour weekly television program for the Sky Angel Satellite network. Francis Frangipane is well known for his efforts in uniting thousands of church leaders in hundreds of cities around the world. The author is also a frequent guest on Christian television programs and has been profiled in several Christian magazines.
Table Of Contents
table Of Contents

introduction

if Your Goals Are Less Than Christlikeness, The Benefits Of Reading This Book Will Be Proportionately Diminished. Indeed, No One Who Is Content With Himself Will Pass Far Into These Pages. But For You Who Apply Yourselves To These Principles, I Entrust You To The Grace Of God, Who Alone Will Empower You Toward Your Goal Of True Holiness.

part One: The Beginning Of Holiness

1                    Humility Precedes Holiness

the Humility We Hope To Find Must Go Beyond The Pattern Of Living Proud Lives, Interrupted Momentarily By Intervals Of Self-abasement. Meekness Must Become Our Way Of Life. Like Jesus, We Must Delight In Becoming "lowly In Heart." Like Jesus, His Disciples Are Humble By Choice.

2                    Find God!

if We Truly Fine Him, No One Will Have To Tell Us To Be Humble. No One Need Convince Us Our Old Natures Are As Filthy Rags. As We Truly Find God, The Things That Are So Highly Esteemed Among Men Will Be Become Detestable In Our Sight (luke 16:15).

3                    The Tent Of Meeting

maturity Starts As We Break The Cycle Of Seeking God Only During Hardship; Holiness Begins The Moment We Seek God For Himself. How Do We Enter This Sacred Place? If We Study The Life Of Moses, We Will See How He Sought God And Lived In Fellowship With Him. We Must Pitch Our Tent "a Good Distance From The Camp." We Must Chose To Leave The Camp Of Familiarity And Place Our Tent In The Presence Of God.

4                    Two Things, Two Things Only

there Are So Many Things To Occupy Our Minds: So Many Books, So Many Examples, So Many Good Teachings That Deserve Our Attention, That Say, "here Is A Truth." But As I Have Been Serving The Lord These Past Years, He Has Led Me To Seek For Two Things And Two Things Only: To Know The Heart Of God In Christ And To Know My Own Heart In Christ's Light.

part Two: The Spirit Of Grace

5                    When Christ Is Revealed

if You Hear A Teaching And Feel As Though It Were Unattainable In Your Condition, You Have Only Heartd Half The Message. You Missed The Grace That Is Always Resident In The Heart Of God's Truth. Truth Without Grace Is Only Half-true. Remember This Always: Grace And Truth Are Realized In Jesus Christ (john 1:17). What God's Truth Demands, His Grace Will Provide.

6                    "i Will Remember Their Sins No More"

in One Sweeping Act Of Forgiveness—so Complete That He Promises To Not Even remember What We Did Wrong—god Has Provided The Eternal Payment For Each Sin We Contritely Ask Him To Forgive. He Loves Us So Much That, While He Continues To Perfect Our Attitudes Of Heart, He Also Provides A Means To Keep Our Relationship With Him Genuine And Without Barriers.

7                    Drawing Near To The Holy God

the Lord Did Not Cease Being Holy When The New Testament Began; His Nature Did Not Change. When Jesus Taught His Disciples To Pray, He Began With "hallowed Be Thy Name." If We Would Truly Know Him As He Is, We Need An Old Testament Fear Of The Lord Combined With The New Testament Experience Of His Grace.

part Three: God's Power In A Holy Life

8                    Holiness Precedes Power

many Christians Look For Shortcuts To The Power Of God. To Try Shortcuts Is To Become, At Best, Frustrated; At Worst, A False Teacher Or Prophet. Listen Very Carefully: There Is Tremendous Power For Us In God But Not Without Holiness. Holiness Precedes Power.

9                    Keeping Your Way Pure

the Scriptures Tell Us That The Lord Is Our Keeper. To Be Kept By Him, However, Does Not Mean We Will Not Face Temptations, For Even Jesus Was Tempted. Rather, It Is In The Midst Of Trials And Temptations That God Keeps Us. And The Way He Keeps Us Is Through His Word. Therefore, If We Would Be Holy, We Must Know Intimately The Person Whom The Bible Calls The Word.

10                The Holy Spirit Of Truth

sanctification Does Not Come Automatically. We Are Told To Pray For "the Sanctification Without Which No One Will See The Lord" (heb. 12:14). We Must Pray For Holiness. Without Seriously Pursuing Sanctification, No One Will See The Lord. We Must Heed The Words Of Jesus, "blessed Are The Pure In Heart, For They Shall See God" (matt. 5:8).

11                Repentance And The Way God Calls Holy

do Not Despise Repentance. Every Season Of Significant Spiritual Growth In Your Walk With God Will Be Precipitated By A Time Of Deep Repentance.

part Four: Fleeing Falsehood

12                Beware: It Is Easy To Fake Christianity

our Experience Of Christianity Must Go Beyond Just Being Another Interpretation Of The Bible; It Must Expand Until Our Faith In Jesus And Our Love For Him Become A Lightning Rod For His Presence.

13                A Heart Without Idols

when We First Come To Jesus, He Accepts Us Just As We Are: Problems, Sins, And All. As Our Needs Are Met, However, We Gradually Discover That God Is Seeking Something From Our Lives. What He Seeks Is Our Worship. But True Worship Is The Consequence, The Result, Of Seeing God As He Is. It Springs Naturally From A Soul Purified By Love; It Rises Like Incense From A Heart Without Idols.

14                The Idol Of False Knowledge

we Do Not Have To Be Great Thinkers To Understand That Sin Can Become An Idol, A False God That Demands Our Obedience. But Side By Side With Sin Is The Idol Of False Knowledge.

part Five: The Sweet Taste Of Holy Fruit

15                Holiness Is A Tree Ripe With Fruit

there Is Something Winsome, Something Beautifully Attractive, About Holiness. When We Seek Holiness, We Are Seeking To Surround Ourselves With The Joy Of Heaven. To Live A Holy Life Is To Dwell At The Source Of All True Pleasure. It Is To Experience Life From God's Perspective, Enjoying Life As God Himself Would.

16                The Converting Power Of True Holiness

one Of The Most Common Verses In The New Testament Reads, "and Great Multitudes Followed Jesus." The Gospel Of Matthew Alone Mentions Over Twenty Instances When Vast Numbers Of People Traveled Great Distances To Be With Christ. People Saw In Jesus Meekness, Unlimited Power, And Perfect Love. If We Would Win Souls, People Must See In Us This Same Jesus.

17                The Highway Of Holiness

why Do We Think Holiness Is So Full Of Gloom? The Images Of Strict, Joyless Rules Surrounding The Holy Life Are Inconsistent With Both The Word And Nature Of God. God Is Love. A Holy Life Is A Life Alive With Love, Compelled By Love, Filled With Love.

part Six: The Radiance Of Holiness

18                A Place For Him To Rest

in The Kingdom, There Are No Great Men Of God, Just Humble Men Whom God Has Chosen To Use Greatly. How Do We Know When We Are Humble? When God Speaks, We Tremble. God Is Looking For A Man Who Trembles At His Word. Such A Man Will Find The Spirit Of God Resting Upon Him; He Will Become A Dwelling Place For The Almighty.

19                The Bright Lamp Of Holiness

when True Holiness Exists In A Christian's Life, It Produces A Luminosity, A Glow Around That Individual. Infants And Little Children, Because Their Spirits Are Yet Pure And Undefiled And Because They Are So Close To The Actual Presence Of God, Emanate This Light As Well. Their Light Is Visible Because Their Hearts Are Transparent And Truthful. For Us, The Way To The Bright Lamp Of Holiness Is This Same Way Of Transparency And Truth. It Is The Way To The Pure Gold Of The Kingdom Of God.

20                The Way Into The Holy Place

in The Chronicles Of The Restoration Of The Church, It Will Be Noted That A Time Came When The Saints Ceased Being Satisfied With Their Song Services, A Time When The Deepest Longings Of Their Hearts Ascended Beyond The Sounds Of Shouts And Hand-clapping, A Transitional Time When Pure Worship Began To Carry Them Into The Actual Presence Of God.

part Seven: Purity Of Heart

21                Purity Of Heart: Open Vision

spiritual Perception Is Based Upon Purity Of Heart. What We See In Life And How We See It Is Rooted In The Soil Of Our Inner Thought-life. If We Would Experience Clear And Open Vision Concerning The Kingdom Of God, A Pure Heart Is Most Essential.

22                The Virgin Shall Be With Child

the Bible Is A Book Of Reversals. Old Things Become New, The Dead Come To Life, The Lost Are Found. Even Those Who Were The Vilest Of Sinners Are Now Empowered By Grace To Become The Virgin Bride Of Jesus Christ.

in Closing

if You Are Faithful To Your Goal Of Christlikeness, God Will Give You The Grace To Live In His Presence. And When Christ, Who Is Your Life, Is Revealed, You Also Will Be Revealed With Him In Glory (col. 3:3–4).