Hollywood Holdup (#12 in Red Rock Mysteries Series)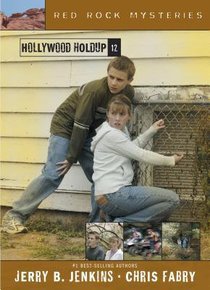 A family crisis causes Bryce and Ashley to volunteer to house-sit for some friends, but as soon as they move in, they notice strange happenings with the neighbors. Could one of them be involved in a series of robberies? While they watch the neighbors, who is watching them? Bryce and Ashley Timberline are normal 13-year-old twins, except for one thing-they discover action-packed mystery wherever they go. Find out where their search for truth takes them in this exciting mystery!

- Publisher Bryce and Ashley Timberline are normal 13-year-old twins, except for one thing?they discover action-packed mystery wherever they go. Whether it's tracking down a missing groom or uncovering a drug-dealing ring, Bryce and Ashley never lose their taste for adventure. Wanting to get to the bottom of any mystery, these twins find themselves on a nonstop search for the truth.

- Publisher
You May Also Be Interested In
About "Hollywood Holdup (#12 in Red Rock Mysteries Series)"
A family crisis causes Bryce and Ashley to volunteer to house-sit for some friends, but as soon as they move in, they notice strange happenings with the neighbors. Could one of them be involved in a series of robberies? While they watch the neighbors, who is watching them? Bryce and Ashley Timberline are normal 13-year-old twins, except for one thing-they discover action-packed mystery wherever they go. Find out where their search for truth takes them in this exciting mystery!
- Publisher

Bryce and Ashley Timberline are normal 13-year-old twins, except for one thing?they discover action-packed mystery wherever they go. Whether it's tracking down a missing groom or uncovering a drug-dealing ring, Bryce and Ashley never lose their taste for adventure. Wanting to get to the bottom of any mystery, these twins find themselves on a nonstop search for the truth.
- Publisher


Meet the Authors
Chris Fabry
Chris Fabry is a 1982 graduate of the W. Page Pitt School of Journalism at Marshall University. He is heard on Chris Fabry Live! each weekday on Moody Radio, the Love Worth Finding broadcast, and other radio programs. You may have also heard Chris cohosting programs for Focus on the Family radio. He and his wife, Andrea, live in Colorado and are the parents of nine children.
Chris recently released his first adult novel entitled Dogwood, which is set in his native state of West Virginia. He has published more than 60 other books, including many novels for children and young adults. He co-authored the Left Behind: The Kids series with Jerry B. Jenkins and Tim LaHaye, as well as the Red Rock Mysteries and the Wormling series with Jerry B. Jenkins. RPM is his latest series for kids and explores the exciting world of NASCAR. Visit his Web site at www.chrisfabry.com.
Jerry Jenkins
Jerry B. Jenkins, former Vice President for Publishing and currently Writer-at-Large for the Moody Bible Institute of Chicago, is the author of more than 150 books, including the best-selling Left Behind series. Sixteen of his books have reached the New York Times best-seller list and have also appeared on the USA Today, Publishers Weekly and Wall Street Journal best-seller lists. Desecration, book #9 in the Left Behind series was the best-selling novel in America in 2001. Also the former editor of Moody Magazine, his writing has appeared in dozens of Christian periodicals.His non-fiction includes as-told-to biographies of such notable men as Bill Gaither. He helped Dr. Billy Graham with his memoirs, Just As I Am, also a New York Times best seller. Jerry owns Jenkins Entertainment, a filmmaking company in Los Angeles, which produced the critically-acclaimed movie Hometown Legend based on his book of the same name. Jerry Jenkins also owns the Christian Writers Guild, which aims to train tomorrow's professional Christian writers.Under Jerry's leadership, the Guild is steadily expanding its services to include a writers' advocacy centre, college credit courses, a critique service, literary registration services, and writing contests. As a marriage and family author and speaker, Jenkins has been a frequent guest on Dr. James Dobson's Focus On the Family radio program.Jerry and his wife Dianna have three grown sons and three grandchildren. - Publisher.
Other Titles In The "Red Rock Mysteries" Series View All