Home Run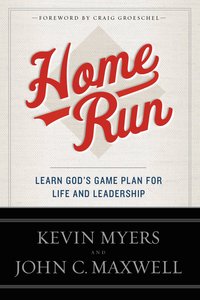 You are invited to live life to the fullest.

For five hard years Christian leader Kevin Myers struggled personally and professionally. But it was during that time that God pointed out where he was going wrong and showed him the biblical pattern for living. It proceeded to transform his life, leadership, ministry, and relationships. During that time John Maxwell also became his mentor.

Together, using a baseball diamond as an analogy for following God's plan for life, Myers and Maxwell provide a clear path forward while helping you keep your priorities in order and your eyes on the prize. What is that pattern?

Connection with God: Winning Dependence
Character: Winning Within
Community: Winning with Others
Competence: Winning Results

Challenging, heart-felt, and insightful, Myers' story will connect with anyone who feels their life is falling short of God's promises. The hard-won lessons Myers learned, along with insightful comments and on-point application from Maxwell, will make it possible for you to win in this performance-based culture without losing your soul.

There are no shortcuts or steals in the spiritual journey of life. HOME RUN is a guidebook for living life and learning how to succeed God's way.



- Publisher
You May Also Be Interested In
About "Home Run"
You are invited to live life to the fullest.

For five hard years Christian leader Kevin Myers struggled personally and professionally. But it was during that time that God pointed out where he was going wrong and showed him the biblical pattern for living. It proceeded to transform his life, leadership, ministry, and relationships. During that time John Maxwell also became his mentor.

Together, using a baseball diamond as an analogy for following God's plan for life, Myers and Maxwell provide a clear path forward while helping you keep your priorities in order and your eyes on the prize. What is that pattern?

Connection with God: Winning Dependence
Character: Winning Within
Community: Winning with Others
Competence: Winning Results

Challenging, heart-felt, and insightful, Myers' story will connect with anyone who feels their life is falling short of God's promises. The hard-won lessons Myers learned, along with insightful comments and on-point application from Maxwell, will make it possible for you to win in this performance-based culture without losing your soul.

There are no shortcuts or steals in the spiritual journey of life. HOME RUN is a guidebook for living life and learning how to succeed God's way.


- Publisher


Meet the Authors
Kevin Myers
Kevin Myers is a writer, broadcaster, and novelist who covered the Lebanese Civil War in the 1980s and the Bosnian War in the 1990s, and is currently a columnist for the Irish Independent. He lives in Dublin, Ireland.
John C Maxwell
John C. Maxwell is a #1 New York Times bestselling author, coach, and speaker who has sold more than thirty million books in fifty languages. He has been identified as the #1 leader in business by the American Management Association and the most influential leadership expert in the world by Business Insider and Inc. magazines. He is the founder of the John Maxwell Company, the John Maxwell Team, EQUIP, and the John Maxwell Leadership Foundation, organizations that have trained millions of leaders from every country of the world. The recipient of the Mother Teresa Prize for Global Peace and Leadership from the Luminary Leadership Network, Dr. Maxwell speaks each year to Fortune 500 companies, presidents of nations, and many of the world's top business leaders. - Koorong



John C. Maxwell is an internationally recognized leadership expert, speaker, and author who has sold over 13 million books. His organizations have trained more than 2 million leaders worldwide. Dr. Maxwell is the founder of Injoy Stewardship Services and EQUIP. Every year he speaks to Fortune 500 companies, international government leaders, and organizations as diverse as the United States Military Academy at West Point and the National Football League. A New York Times, Wall Street Journal, and Business Week best-selling author, Maxwell was one of 25 authors and artists named to Amazon.com's 10th Anniversary Hall of Fame. Three of his books, The 21 Irrefutable Laws of Leadership, Developing the Leader Within You and The 21 Indispensable Qualities of a Leader have each sold over a million copies. - Publisher.