Honey For a Child's Heart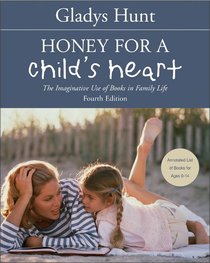 Everything you need from how to choose good books for your children to encouraging them to be avid readers, this fourth edition also includes an indexed and updated list of the best children's classics ever.

- Publisher Includes everything you need to choose good books for your children and to encourage them to be avid readers, this fourth edition also includes an updated list of the best children's classics ever.

- Publisher Family favorite now revised and updated, including an annotated list of books for ages 0-12Everything parents need to know to find the best books for their childrenSince its publication in 1969, this has been an essential guide for parents wanting to find the best books for their children. Now in its fourth edition, Honey for a Child's Heart discusses everything from the ways reading affects both children's view of the world and their imagination to how to choose good books. Illustrated with drawings from dozens of favorites, it includes an indexed and updated list of the best new books on the market and the classics that you want your children to enjoy. Author Gladys Hunt's tastes are broad, her advice is rooted in experience, and her suggestions will enrich the cultural and spiritual life of any home.

- Publisher
You May Also Be Interested In
About "Honey For a Child's Heart"
Everything you need from how to choose good books for your children to encouraging them to be avid readers, this fourth edition also includes an indexed and updated list of the best children's classics ever.
- Publisher

Includes everything you need to choose good books for your children and to encourage them to be avid readers, this fourth edition also includes an updated list of the best children's classics ever.
- Publisher

Family favorite now revised and updated, including an annotated list of books for ages 0-12Everything parents need to know to find the best books for their childrenSince its publication in 1969, this has been an essential guide for parents wanting to find the best books for their children. Now in its fourth edition, Honey for a Child's Heart discusses everything from the ways reading affects both children's view of the world and their imagination to how to choose good books. Illustrated with drawings from dozens of favorites, it includes an indexed and updated list of the best new books on the market and the classics that you want your children to enjoy. Author Gladys Hunt's tastes are broad, her advice is rooted in experience, and her suggestions will enrich the cultural and spiritual life of any home.
- Publisher


Table Of Contents
Acknowledgments . . . . . . . . . . 9

Foreword. . . . . . . . . . . . . . . . . 11

Introduction. . . . . . . . . . . . . . . 13

Part One:using Books To Help Children Grow

1. Bequest Of Wings . . . . . . . . .17

2. Milk And Honey . . . . . . . . . .25

3. What Makes A Good Book? . . . 41

4. Fantasy And Realism . . . . . . . 55

5. Poetry . . . . . . . . 65

6. The Pleasure Of A Shared Adventure. . 75

7. Honey From The Rock. . . . . . . . . 83

8. Who Influences Your Children? . . . 93

9. Making Decisions About Books . . . . . 101

Part Two:best-loved Books For Children

10. How To Use The Book List . . . . . . . 111

11. A Child's First Books: Ages 0--3 . . . . . 115

12. Picture Book Classics: Ages 4--8 . . . . . . 121

13. More Favorite Picture Books: Ages 4--8 . . . . . . 129

14. First Books For Beginning Readers. . . . . . . . 153

15. Classic Children's Novels: Ages 9--12. . . . . . . 159

16. More Great Books For Intermediate

Readers: Ages 9--12 . . . . . . 169

17. Stories For Animal Lovers: Ages 9--12. . . . . . . . . . . 179

18. Historical Novels: Ages 9--12 . . . . . . . . 185

19. Fantasy Novels: Ages 9--12 . . . . . . . 191

20. Young Adult Novels: Ages 12--14 . . . . . . . . 197

21. Poetry Is For Pleasure . . . . . . . 211

22. Nourishing Your Children's Spiritual Life. . . . . . . . 215

23. A Book List For Special Occasions . . . . . . . . . 221

Index Of Authors . . . . . . . 233

Index Of Book Titles . . . . . . . 239
Excerpt
Excerpt from: Honey For a Child's Heart
Bequest of Wings I'm going to play in the Hundred Acre Wood,' said the small boy who lived at our house. I knew what he meant and where he was going, and so I said, 'Fine. If you see Owl, be sure to ask him about Eeyore's tail.' We knew about Eeyore, Pooh, Piglet, Owl, and Christopher Robin. Together we had met them in a book written by A. A. Milne, and our life would always be richer because they had become our friends. To this day I feel sorry for anyone who hasn't made their acquaintance by reading the original book. That is what a book does. It introduces us to people and places we wouldn't ordinarily know. A good book is a magic gateway into a wider world of wonder, beauty, delight, and adventure. Books are experiences that make us grow, that add something to our inner stature. Children and books go together in a special way. I can't imagine any pleasure greater than bringing to the uncluttered, supple mind of a child the delight of knowing the many rich things God has given us to enjoy. Parents have this wonderful privilege, and books are their keenest tools. Children don't stumble onto good books by themselves; they must be introduced to the wonder of words put together in such a way that they spin out pure joy and magic. I had an eloquent older journalism professor at the university who frequently got carried away in trying to convince his students about the marvel of words. He would exclaim rapturously, 'Oh, the beauty and mystery of words! What richness can be conveyed by those who master them!' And while we youthfully mocked him as we recounted his dramatic incantations to our friends, we ourselves coveted the mastery of words, the symbols that convey ideas. We knew that what he said was true. Take all the words available in the human vocabulary and read them from the dictionary, and you have only a list of words. But with the creativity and imagination God has given human beings, let these words flow together in the right order and they give wings to the spirit. Every child ought to know the pleasure of words so well chosen that they awaken sensibility, great emotions, and understanding of truth. This is the magic of words---a touch of the supernatural, communication that ministers to the spirit, a true gift. We cannot underestimate the use of words in creative thought! Proverbs says, 'A word fitly spoken is like apples of gold in pictures of silver.' The right word in the right place is a magnificent gift. Some-how a limited, poverty-stricken vocabulary works toward equally limited use of ideas and imagination. On the other hand, the provocative use of the right words, of a growing vocabulary, gives us adequate material with which to clothe our thoughts and leads to a richer world of expression. What fun it is to encourage a personal awareness of words in a child---the delight of sound, the color and variety of words available to our use. What a difference there is between a vocabulary drill and feeling the beauty of words. Books, the right kind of books, can give us the experience of words. They have power to evoke emotion, a sense of spiritual conviction, an inner expansion that fills a child to the brim so that 'the years ahead will never run dry.' Listen to Barbara Cooney's description of winter in Island Boy, 'When the house had been banked with spruce boughs and the firewood cut for winter, the bitter cold came. Matthais would wake with the tip of his nose like ice. The windowpanes frosted over, and the wind whistled in the chimney. Sea smoke hung over the open water. Then the children would crowd into the steamy kitchen, learning to read and write under Ma's fierce eye.' What wonderful feelings, smells, and scenery these words give to the reader, quite apart from Cooney's sensitive pictures. The words are ordinary, but well-chosen. From stories like these children learn how to use language. Capturing Experiences with Words Words and experience go together. One enriches the other. I like to remember the night we stayed late after a family picnic along an isolated lake in the north woods---far past normal bedtime for children. We watched the rosy glow of the sunset color the sky on the far side of the lake and darken the silhouettes of the trees. We felt the sand shed its warmth and take on a damp coolness. And then darkness fell over our world. We sat around the campfire and listened to the night sounds. Young ears picked up things older ears hadn't heard. What we heard we tried to express in words. Deep-voiced bullfrogs far away, anxious peepers closer by, the gentle lap of the water on the shore, the loon crying in the distance, the crackle of the wood in the fire, the sparks going upward like brief fireflies. And then, as a special gift, a whippoorwill, a shy bird usually heard only from a distance, lit in the bush just behind us and startled us with his clarity of song. Later we watched the moon rise over the trees. We felt beauty; we heard and saw it. We tried to clothe the experience with the right words, so we could remember. Well-chosen words need only be few in number, but they help store away the pleasure of the adventure. We have awakened a small boy at midnight to marvel at the colors in the northern lights. We have stood on hillsides and described the numerous shades of springtime greens across the landscape. It's a marvelous game of awareness and words.