Honey Hunt Helpers (I Can Read!1/berenstain Bears Series)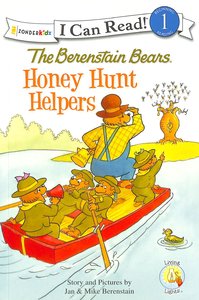 $

5.99

$

4.79
You Save: $1.20 (20%)
Paperback
A series of faith-based values readers inspired by the classic Berenstain Bears book, The Berenstain Bears and the Good Deed, recently acquired for reprint by Zonderkidz. The Good Deed Scouts are a group of bear cubs who are committed to doing a good deed each and every day. Scouts Brother, Sister, Cousin Fred and Lizzy set forth in each story to find a good deed to do. Each book begins with a Bible verse about the importance of doing good deeds to help others. Each story tells about a different need in the community that the scouts can fulfill, a different way in which they can be of service. By doing good deeds for others, the Good Deed Scouts bring out the best in others as well. Soon those they serve are doing good deeds in return. From this small seed helping and caring for others grows and blossoms throughout the whole community. Biblical values are brought out and Bible verses are quoted.

- Publisher
You May Also Be Interested In
About "Honey Hunt Helpers (I Can Read!1/berenstain Bears Series)"
A series of faith-based values readers inspired by the classic Berenstain Bears book, The Berenstain Bears and the Good Deed, recently acquired for reprint by Zonderkidz. The Good Deed Scouts are a group of bear cubs who are committed to doing a good deed each and every day. Scouts Brother, Sister, Cousin Fred and Lizzy set forth in each story to find a good deed to do. Each book begins with a Bible verse about the importance of doing good deeds to help others. Each story tells about a different need in the community that the scouts can fulfill, a different way in which they can be of service. By doing good deeds for others, the Good Deed Scouts bring out the best in others as well. Soon those they serve are doing good deeds in return. From this small seed helping and caring for others grows and blossoms throughout the whole community. Biblical values are brought out and Bible verses are quoted.
- Publisher


Meet the Authors
Jan Berenstain
Stan and Jan Berenstain were already successful cartoonists for magazines and adult humor books when they began writing children's books. The first story starring the bear family, The Big Honey Hunt, appeared in 1962. Since then, more than 250 Berenstain Bears books have been published, and more than 260 million copies have been sold. What began as an idea sparked by their young sons' interest in children's books has become over the years arguably the best-selling children's book series ever. Stan passed away in 2005, and Jan in 2012, but their legacy has been continued by their son Mike.
Mike Berenstain
Stan and Jan Berenstain introduced the first Berenstain Bear books in 1962. Mike Berenstain grew up watching his parents work together to write about and draw these lovable bears. Eventually he started drawing and writing about them too. Though Stan died in 2005 and Jan in 2012, Mike continues to create the delightful Bear adventures from the family home in Pennsylvania ... in an area that looks much like the sunny dirt road deep in Bear Country!
Other Titles In The "I Can Read!1/berenstain Bears" Series View All