Hope in the Great Southland (Heartsong Series)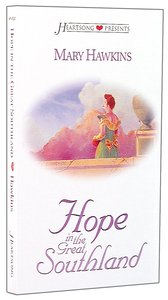 Just before her father's funeral, Kate discovers a dreadful secret. If things remain as they are, her father's estate will go to her scheming cousin and an innocent man will spend his life as a prisoner. Can she overcome a terrible injustice and join forces with Adam to find hope in the Great Southland
You May Also Be Interested In
About "Hope in the Great Southland (Heartsong Series)"
Just before her father's funeral, Kate discovers a dreadful secret. If things remain as they are, her father's estate will go to her scheming cousin and an innocent man will spend his life as a prisoner. Can she overcome a terrible injustice and join forces with Adam to find hope in the Great Southland
- Koorong


Meet the Author
Mary Hawkins
With well over 800,000 books in print, Mary Hawkins has been a prominent figure in the Christian fiction world. Mary's dream of becoming a published novelist became true in 1993 with the release of her first book. Since then 18 titles have sold world-wide with Australia, a collection of contemporary Christian romance novels becoming a best-seller.

Mary and her husband Ray, also now a published author of devotional books, have been in pastoral ministries in New South Wales, Queensland and England. They now live in Australia's island state, Tasmania.
Other Titles In The "Heartsong" Series View All