Hope Takes Flight (#02 in American Century Series)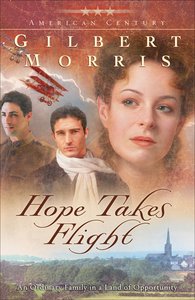 Just years before America witnessed the turn of the century, the three eldest Stuart children left their home in the hills of Arkansas to pursue their dreams in the land of opportunity. Now they are back for a family reunion at the humble home they left years ago.

In an unforeseeable turn of events, their visit is cut short when Lylah and Amos are required to return to the city as the world edges closer to war. Within months they find themselves and their brother Gavin deeply involved in the war efforts, but not in the ways they had ever expected. And as the conditions in Europe worsen, they must face a startling reality: before it's all over, the war could claim the life of one of their own.

Will the Stuarts survive these tumultuous times and return to their family safe and sound? Or will World War I forever change the lives they know?

- Publisher
You May Also Be Interested In
About "Hope Takes Flight (#02 in American Century Series)"
Just years before America witnessed the turn of the century, the three eldest Stuart children left their home in the hills of Arkansas to pursue their dreams in the land of opportunity. Now they are back for a family reunion at the humble home they left years ago.

In an unforeseeable turn of events, their visit is cut short when Lylah and Amos are required to return to the city as the world edges closer to war. Within months they find themselves and their brother Gavin deeply involved in the war efforts, but not in the ways they had ever expected. And as the conditions in Europe worsen, they must face a startling reality: before it's all over, the war could claim the life of one of their own.

Will the Stuarts survive these tumultuous times and return to their family safe and sound? Or will World War I forever change the lives they know?
- Publisher


Meet the Author
Gilbert Morris
Gilbert Morris is one of todays best-known Christian novelists, specialising in historical fiction. His best-selling works include Edge of Honor (winner of a Christy Award in 2001), Jacobs Way, the House of Winslow series, the Appomattox series, and The Wakefield Saga. He lives in Gulf Shores, Alabama, with his wife, Johnnie. - Publisher.
Other Titles In The "American Century Series" Series View All