Hosea/Amos/Micah (Niv Application Commentary Series)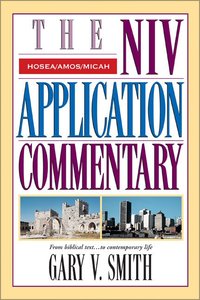 Hosea/Amos/Micah, which is part of the NIV Application Commentary Series, helps readers learn how the messages of Hosea, Amos, and Micah can have the same powerful impact today that they did when they were first written.

Scratch beneath the surface of today's culture and you'll find we're not so different from ancient Israel. True, our sophistication, mobility, and technology eclipse anything the Israelites could have imagined. Our worship is far different, to say nothing of our language and customs. Yet if the prophets Hosea, Amos, and Micah were to visit us today, we might be shocked to see how little their messages would differ from the ones they delivered 2,800 years ago.

For human hearts are still the same--and so is God. Injustice, oppression, and political corruption anger him as much as ever. Apostasy still grieves him. His judgment of sin remains as fierce as his love is strong. And the hope God extends to those who turn toward him is as brilliant now as at any time in history.

Revealing the links between Israel eight centuries B.C. and our own times, Gary V. Smith shows how the prophetic writings of Hosea, Amos, and Micah speak to us today with relevance and conviction.

- Publisher 624 Pages

- Publisher The NIV Application Commentary: Hosea, Amos, Micah is a study of the experiences and preaching of three eighth-century B.C. prophets who proclaimed God's message to persuade their audiences to transform their thinking and behavior in order to avoid God's impending judgment. Hosea saw that the Israelites' lack of knowledge about God, their refusal to maintain steadfast loyalty to God, and their deceptive ways destroyed their covenant relationship with God. Amos opposed the violent oppression of the poor by the rich and the false sense of security the wealthy had with their large homes, their political power, and their hopeful religious traditions. Micah confronted false prophets, unjust judges, and the people's misunderstanding of what God desired from them. He lamented the coming loss of life in the near future, but pointed the people to the future coming of the Messiah and the kingdom of God as their only hope. These prophets declared that God deeply loves his people, but that he hates sinful people who reject him. The only hope for the oppressor, the unjust, the proud, the deceived, and the rebellious is to repent, to love God, and to walk in his ways. God has a wonderful future plan established for the remnant that seek him.

- Publisher
You May Also Be Interested In
This item is in the following kit
About "Hosea/Amos/Micah (Niv Application Commentary Series)"
Hosea/Amos/Micah, which is part of the NIV Application Commentary Series, helps readers learn how the messages of Hosea, Amos, and Micah can have the same powerful impact today that they did when they were first written.

Scratch beneath the surface of today's culture and you'll find we're not so different from ancient Israel. True, our sophistication, mobility, and technology eclipse anything the Israelites could have imagined. Our worship is far different, to say nothing of our language and customs. Yet if the prophets Hosea, Amos, and Micah were to visit us today, we might be shocked to see how little their messages would differ from the ones they delivered 2,800 years ago.

For human hearts are still the same--and so is God. Injustice, oppression, and political corruption anger him as much as ever. Apostasy still grieves him. His judgment of sin remains as fierce as his love is strong. And the hope God extends to those who turn toward him is as brilliant now as at any time in history.

Revealing the links between Israel eight centuries B.C. and our own times, Gary V. Smith shows how the prophetic writings of Hosea, Amos, and Micah speak to us today with relevance and conviction.
- Publisher

624 Pages
- Publisher

The NIV Application Commentary: Hosea, Amos, Micah is a study of the experiences and preaching of three eighth-century B.C. prophets who proclaimed God's message to persuade their audiences to transform their thinking and behavior in order to avoid God's impending judgment. Hosea saw that the Israelites' lack of knowledge about God, their refusal to maintain steadfast loyalty to God, and their deceptive ways destroyed their covenant relationship with God. Amos opposed the violent oppression of the poor by the rich and the false sense of security the wealthy had with their large homes, their political power, and their hopeful religious traditions. Micah confronted false prophets, unjust judges, and the people's misunderstanding of what God desired from them. He lamented the coming loss of life in the near future, but pointed the people to the future coming of the Messiah and the kingdom of God as their only hope. These prophets declared that God deeply loves his people, but that he hates sinful people who reject him. The only hope for the oppressor, the unjust, the proud, the deceived, and the rebellious is to repent, to love God, and to walk in his ways. God has a wonderful future plan established for the remnant that seek him.
- Publisher


Meet the Author
Gary V Smith
Gary V. Smith (Ph.D., Dropsie College) is Professor of Christian Studies Education at Union University, Tennesee. He has written a number of engaging commentaries including Hosea, Amos and Micah (New International Version Application Commentary), Isaiah 1-39; Isaiah 40-66 (New American Commentary) and Amos and his Oracles (Mentor), and The Prophets As Preachers: An Introduction to the Hebrew Prophets. He is also producing the forthcoming volume on Ezra, Nehemiah, and Esther in the Cornerstone Biblical Commentary.
Other Titles In The "Niv Application Commentary" Series View All