Hosea-Micah (Interpretation Bible Commentaries Series)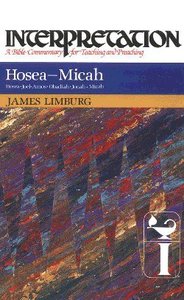 Interpretation is a set of full-length, practical, and clearly written commentaries that help teachers and preachers in their educational and homiletic work -- and laypersons in their study of the Bible. Interpretation bridges the gap between critical and expository commentaries and combines the most exciting biblical scholarship with illuminating textual expositions.

- Publisher 201 Pages

- Publisher In this important addition to the Interpretation Series, Limburg introduces the minor prophets: Hosea, Joel, Amos, Obadiah, Jonah, and Micah. Offering a fresh perspective for preachers and teachers, Limburg interprets the words of the prophets in light of today's world, with emphasis on the major themes of peace and justice, Messiah and mission, love and forgiveness.

- Publisher
You May Also Be Interested In
About "Hosea-Micah (Interpretation Bible Commentaries Series)"
Interpretation is a set of full-length, practical, and clearly written commentaries that help teachers and preachers in their educational and homiletic work -- and laypersons in their study of the Bible. Interpretation bridges the gap between critical and expository commentaries and combines the most exciting biblical scholarship with illuminating textual expositions.
- Publisher

201 Pages
- Publisher

In this important addition to the Interpretation Series, Limburg introduces the minor prophets: Hosea, Joel, Amos, Obadiah, Jonah, and Micah. Offering a fresh perspective for preachers and teachers, Limburg interprets the words of the prophets in light of today's world, with emphasis on the major themes of peace and justice, Messiah and mission, love and forgiveness.
- Publisher


Meet the Author
James Limburg
James Limburg (PhD., Union Seminary in Virginia came to the Luther Seminary faculty as visiting associate professor in 1978-79, and was promoted to Professor of Old Testament in 1982. Limburg's books include: Psalms: A Commentary (2000), Find Yourself in the Psalms (1997); Jonah: A Commentary, The Old Testament Library (1993) and Hosea-Micah, Interpretation Commentaries (1988).
Other Titles In The "Interpretation Bible Commentaries" Series View All