Hot Illustrations For Youth Talks 4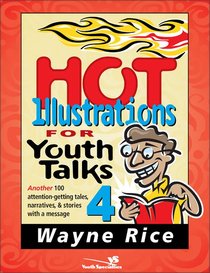 The fourth volume of the best-selling Hot Illustrations for Youth Talks series delivers all-new, lively, effective illustrations, stories, parables, and anecdotes from the files of many of youth ministry's best speakers.

Even the greatest teachers know that nothing teaches like a great story. Which is why you're holding in your hands yet another collection of 100 stories, parables, and anecdotes for youth group talks - the fourth instalment of the best-selling Hot Illustrations for Youth Talks series compiled by Wayne Rice. These imaginative, thoughtful, read-'em-off-the-page yarns are perfect for bringing youth talks to life, whether your stage is Sunday school, camps and retreats, small groups. . . even parent meetings!

These all-new, teenager-tested tales are straight from the "Illustrations That Always Work" files of veteran youth workers such as -

Kara Powell
Rick Bundschuh
Sonny Salsbury
Tim Timmons
Les Christie
Chuck Wysong
Darrel Pearson
and many others! Whatever your talk is about - salvation or self-image, adversity or alcohol, marriage or missions, God or greed - you're sure to find the perfect illustration for it in these pages. PLUS, you'll get
A topical index to all illustrations
Tips, strategies, and guidelines for choosing and using these anecdotes
Suggestions at the end of each story for ways to tie it into your teaching
Dive into more than a year's worth of spiritually rich narratives that will enliven your teaching and help make God's truth a little more concrete for your students.


- Publisher 192 Pages

- Publisher
You May Also Be Interested In
About "Hot Illustrations For Youth Talks 4"
The fourth volume of the best-selling Hot Illustrations for Youth Talks series delivers all-new, lively, effective illustrations, stories, parables, and anecdotes from the files of many of youth ministry's best speakers.

Even the greatest teachers know that nothing teaches like a great story. Which is why you're holding in your hands yet another collection of 100 stories, parables, and anecdotes for youth group talks - the fourth instalment of the best-selling Hot Illustrations for Youth Talks series compiled by Wayne Rice. These imaginative, thoughtful, read-'em-off-the-page yarns are perfect for bringing youth talks to life, whether your stage is Sunday school, camps and retreats, small groups. . . even parent meetings!

These all-new, teenager-tested tales are straight from the "Illustrations That Always Work" files of veteran youth workers such as -

Kara Powell
Rick Bundschuh
Sonny Salsbury
Tim Timmons
Les Christie
Chuck Wysong
Darrel Pearson
and many others! Whatever your talk is about - salvation or self-image, adversity or alcohol, marriage or missions, God or greed - you're sure to find the perfect illustration for it in these pages. PLUS, you'll get
A topical index to all illustrations
Tips, strategies, and guidelines for choosing and using these anecdotes
Suggestions at the end of each story for ways to tie it into your teaching
Dive into more than a year's worth of spiritually rich narratives that will enliven your teaching and help make God's truth a little more concrete for your students.

- Publisher

192 Pages
- Publisher


Meet the Author
Wayne Rice
Wayne Rice conducts parenting seminars for HomeWord, a ministry that provides resources for families in San Juan Capistrano, California. He is also an associate faculty member at Bethel Theological Seminary in San Diego, California.


His other books include Read This Book or You're Grounded; Enjoy Your Middleschooler; Hot Illustrations for Youth Talks;Reinventing Youth Ministry (Again)From Bells and Whistles to Flesh and Blood and Up Close and Personal (an ECPA Gold Medallion winner). With Ken Davis, he created the video curriculum Understanding Your Teenager. An accomplished musician, Rice has played and recorded albums with several different bluegrass bands. He currently hosts Bluegrass Special weekly on KSON in San Diego.