Hot Mama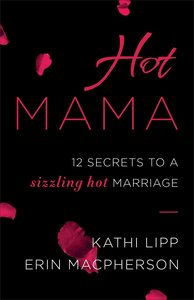 :If you ask the average woman how much sizzle there is in her marriage, she'll probably answer, "Not enough!" Being a mom is overwhelming, and it's easy for moms to slip into the habit of allowing responsibilities for kids, work, and church to interfere with their relationship with their husbands. They don't have the energy or the ideas they need to have a spicy, satisfying sex life. Hot Mama to the rescue!

Kathi Lipp and Erin MacPherson set out on a mission to find out what it takes for busy moms to feel confident and sexy. In this witty book, they share hilarious stories and creative ideas from moms all over the country that will help readers build a relationship with their spouse that's happy, healthy, and fun. From building confidence and banishing guilt to flirting (remember that?) and wearing clothes that make you--and him--feel hot, Kathi and Erin offer women all the encouragement, motivation, and know-how they need to take their sex lives from ho-hum to hot.

- Publisher
You May Also Be Interested In
About "Hot Mama"
:If you ask the average woman how much sizzle there is in her marriage, she'll probably answer, "Not enough!" Being a mom is overwhelming, and it's easy for moms to slip into the habit of allowing responsibilities for kids, work, and church to interfere with their relationship with their husbands. They don't have the energy or the ideas they need to have a spicy, satisfying sex life. Hot Mama to the rescue!

Kathi Lipp and Erin MacPherson set out on a mission to find out what it takes for busy moms to feel confident and sexy. In this witty book, they share hilarious stories and creative ideas from moms all over the country that will help readers build a relationship with their spouse that's happy, healthy, and fun. From building confidence and banishing guilt to flirting (remember that?) and wearing clothes that make you--and him--feel hot, Kathi and Erin offer women all the encouragement, motivation, and know-how they need to take their sex lives from ho-hum to hot.
- Publisher


Meet the Authors
Kathi Lipp
Kathi Lipp is a busy conference and retreat speaker, currently speaking each year to thousands of women throughout the United States. She is the author of The Husband Project and The Marriage Project and has had articles published in several magazines, including Today's Christian Woman and Discipleship Journal. Kathi and her husband, Roger, live in California and are the parents of four teenagers and young adults.
Erin Macpherson
Erin MacPherson is a mom of three who never does anything halfway. When she discovered she was pregnant she decided to write about it--but then kept writing. A former staff writer and editor for Nickelodeon, Erin now entertains parents on her personal blog as well as through freelance magazine articles, devotionals and speaking. She wants to come beside her readers not only as a confidant and Christian sister, but also as a best girlfriend who understands what daily life is all about. A