House of Secrets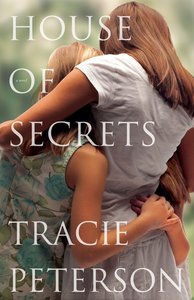 Peterson Presents a Compelling Contemporary Tale

When her father orchestrates a surprise trip to the summer house of her childhood, Bailee Cooper is unprepared for what follows. What is intended to be a happy reunion for Bailee and her sisters, Geena and Piper, quickly becomes shrouded by memories from the past.

Together again, the three sisters sift through their recollections of fifteen years ago...of an ill mother, and of their father making a desperate choice. They vowed, as children, to be silent--but one sister believes the truth must now be revealed. Yet can they trust their memories?

Mark Delahunt arrives in the wake of this emotional turmoil. Determined to win Bailee's affection, Mark becomes the strong fortress for her in this time of confusion, and what was once a tentative promise begins to take root and grow. Caught between the past and an uncertain future, can Bailee let God guide her to heal the past and ultimately to embrace love?

- Publisher
You May Also Be Interested In
About "House of Secrets"
Peterson Presents a Compelling Contemporary Tale

When her father orchestrates a surprise trip to the summer house of her childhood, Bailee Cooper is unprepared for what follows. What is intended to be a happy reunion for Bailee and her sisters, Geena and Piper, quickly becomes shrouded by memories from the past.

Together again, the three sisters sift through their recollections of fifteen years ago...of an ill mother, and of their father making a desperate choice. They vowed, as children, to be silent--but one sister believes the truth must now be revealed. Yet can they trust their memories?

Mark Delahunt arrives in the wake of this emotional turmoil. Determined to win Bailee's affection, Mark becomes the strong fortress for her in this time of confusion, and what was once a tentative promise begins to take root and grow. Caught between the past and an uncertain future, can Bailee let God guide her to heal the past and ultimately to embrace love?
- Publisher


Meet the Author
Tracie Peterson
Tracie Peterson is a full-time author who has written or co-written over 60 novels in both historical and contemporary genres which regularly appear on the bestseller lists, including the WESTWARD CHRONICLES, the YUKON QUEST and the SHANNON SAGA series. Tracie also teaches writing workshops at a variety of conferences on subjects including inspirational romance and historical research. Tracie and her family live in Montana. - Publisher.