How Christianity Changed the World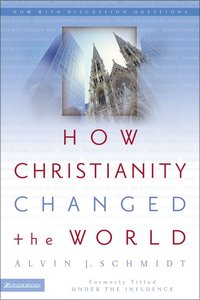 A survey of the various ways - often unrecognized and overlooked - whereby Christianity has profoundly and positively influenced the world. Formerly titled Under the Influence.

The pervasive pluralism, secularism and biblical illiteracy of contemporary Western culture has led to a widespread, uncritical acceptance of the notion that Christianity has been largely a negative force throughout history. The church of today is often perceived as irrelevant and moribund; with an historical legacy characterized by ignorance, ethical compromise, and oppression. There is little appreciation for the fact that Christianity is the foundation of what many people most value in cultural, political and social spheres.

How Christianity Changed the World is a topically arranged history of Christianity for Christians and non-Christians. Grounded in solid research and written in a popular style, this book makes a persuasive case for crediting Christianity as the source of many of the social, scientific, and cultural advances in the Western world in the last two thousand years. Photographs, timelines, and charts enhance each chapter. Formerly published as Under the Influence, this edition also features questions for reflection and discussion for each chapter. 448 pages, from Zondervan.
- Publisher.
You May Also Be Interested In
About "How Christianity Changed the World"
A survey of the various ways - often unrecognized and overlooked - whereby Christianity has profoundly and positively influenced the world. Formerly titled Under the Influence.

The pervasive pluralism, secularism and biblical illiteracy of contemporary Western culture has led to a widespread, uncritical acceptance of the notion that Christianity has been largely a negative force throughout history. The church of today is often perceived as irrelevant and moribund; with an historical legacy characterized by ignorance, ethical compromise, and oppression. There is little appreciation for the fact that Christianity is the foundation of what many people most value in cultural, political and social spheres.

How Christianity Changed the World is a topically arranged history of Christianity for Christians and non-Christians. Grounded in solid research and written in a popular style, this book makes a persuasive case for crediting Christianity as the source of many of the social, scientific, and cultural advances in the Western world in the last two thousand years. Photographs, timelines, and charts enhance each chapter. Formerly published as Under the Influence, this edition also features questions for reflection and discussion for each chapter. 448 pages, from Zondervan.
- Publisher.
- Koorong

Western civilization is becoming increasingly pluralistic,secularized, and biblically illiterate. Many people todayhave little sense of how their lives have benefited fromChristianity's influence, often viewing the church withhostility or resentment.How Christianity Changed the World is a topicallyarranged Christian history for Christians and non-Christians. Grounded in solid research and written in apopular style, this book is both a helpful apologetic toolin talking with unbelievers and a source of evidence forwhy Christianity deserves credit for many of thehumane, social, scientific, and cultural advances in theWestern world in the last two thousand years.Photographs, timelines, and charts enhance eachchapter.This edition features questions for reflection anddiscussion for each chapter.
- Publisher


Meet the Author
Alvin J Schmidt
Alvin J. Schmidt (PhD, University of Nebraska) retired in 1999 as professor of sociology at Illinois College in Jacksonville, Illinois, where he still lives. He is the author of several books, including The Great Divide: The Failure of Islam and the Triumph of the West, and served as a consulting editor for Dictionary of Cults, Sects, Religions and the Occult. SPANISH BIO: Doctor en filosofia de la Universidad de Nebraska, se retiro en 1999 como profesor de sociologia del Colegio de Illinois en Jacksonville, Illinois. Ha contribuido en numerosas publicaciones y es autor de varios libros. Tambi