How Evil Works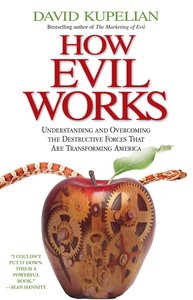 David Kupelian, veteran journalist and bestselling author of "The Marketing of Evil, "probes the millennia-old questions of evil--what it is, how it works, and why it so routinely and effortlessly ruins our lives--once again demonstrating his uncanny knack for demystifying complex, elusive, and intimidating subjects with fresh insights into the hidden mechanisms of seduction, corruption, religion, and power politics. Analyzing today's most electrifying news stories and hot-button topics, Kupelian explores such profoundly troubling questions as"Why are big lies more believable than little ones?""How does terrorism really work?""Why do so many celebrities who "have it all" end up self-destructing?""Why are boys doing worse in school today than girls?""Why do we treat the problems of anger and depression with drugs?." . . and much more. Fortunately, once we really understand "how evil works"--both in our own lives and in the world at large--evil loses much of its power and the way out becomes more clear.

- Publisher
You May Also Be Interested In
About "How Evil Works"
David Kupelian, veteran journalist and bestselling author of "The Marketing of Evil, "probes the millennia-old questions of evil--what it is, how it works, and why it so routinely and effortlessly ruins our lives--once again demonstrating his uncanny knack for demystifying complex, elusive, and intimidating subjects with fresh insights into the hidden mechanisms of seduction, corruption, religion, and power politics. Analyzing today's most electrifying news stories and hot-button topics, Kupelian explores such profoundly troubling questions as"Why are big lies more believable than little ones?""How does terrorism really work?""Why do so many celebrities who "have it all" end up self-destructing?""Why are boys doing worse in school today than girls?""Why do we treat the problems of anger and depression with drugs?." . . and much more. Fortunately, once we really understand "how evil works"--both in our own lives and in the world at large--evil loses much of its power and the way out becomes more clear.
- Publisher


Meet the Author
David Kupelian
Bestselling author and journalist David Kupelian is the managing editor of both WorldNetDaily and its monthly news magazine, Whistleblower. He has appeared on television shows such as Fox News Channel's Hannity & Colmes, Your World with Neil Cavuto, and Dayside; MSNBC's The Situation with Tucker Carlson; CBN's The 700 Club; and Newswatch, plus hundreds of radio shows.