How Strong Women Pray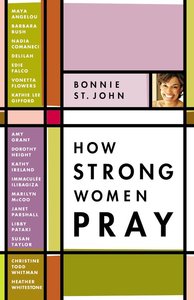 Bonnie St. John profiles some of today's most prominent women and how prayer has impacted their lives.

- Publisher Bonnie's amazing life story is interwoven with intimate reflections on prayer by inspiring women, given in interviews expressly for this book. Barbara Bush, Maya Angelou, Kathie Lee Gifford, Amy Grant, Kathy Ireland, Edie Falco, and Susan Taylor are among the 25 powerful women who share how they communicate with God and reveal to readers how they can do the same. The prayer lives of these strong women are supplemented by compelling stories about how they have, through prayer, faced extraordinary challenges. Each answers these questions: - When has prayer made a big difference in your life? - How do you pray? - What practical tips can you offer to make prayer more effective? - How have your prayers changed over time? Bonnie St. John lyrically reveals her own life experiences -- how prayer helped her overcome the amputation of her leg as a child, her triumph as an international ski champion, and childhood sexual abuse.

- Publisher Part celebrity memoir, part how-to guide to prayer, this collection features the personal stories of many famous women who openly discuss their spiritual lives.

- Publisher
You May Also Be Interested In
About "How Strong Women Pray"
Bonnie St. John profiles some of today's most prominent women and how prayer has impacted their lives.
- Publisher

Bonnie's amazing life story is interwoven with intimate reflections on prayer by inspiring women, given in interviews expressly for this book. Barbara Bush, Maya Angelou, Kathie Lee Gifford, Amy Grant, Kathy Ireland, Edie Falco, and Susan Taylor are among the 25 powerful women who share how they communicate with God and reveal to readers how they can do the same. The prayer lives of these strong women are supplemented by compelling stories about how they have, through prayer, faced extraordinary challenges. Each answers these questions: - When has prayer made a big difference in your life? - How do you pray? - What practical tips can you offer to make prayer more effective? - How have your prayers changed over time? Bonnie St. John lyrically reveals her own life experiences -- how prayer helped her overcome the amputation of her leg as a child, her triumph as an international ski champion, and childhood sexual abuse.
- Publisher

Part celebrity memoir, part how-to guide to prayer, this collection features the personal stories of many famous women who openly discuss their spiritual lives.
- Publisher


Meet the Author
John Bonnie St
Bonnie St John is a 1984 Paralympics silver medal winner in ski racing. Her education includes a degree with honors from Harvard, a Rhodes scholarship, and an M.Litt in Economics from Oxford.
Her career includes positions as an award-winning sales rep for IBM and a Clinton White House member of staff. She now is a much-in-demand speaker, who makes nearly 100 speeches each year to corporations and civic groups. You can visit her on the Web at www.bonniestjohn.com. She is the author of Live Your Joy and How Strong Women Pray.