How to Be a Christian in a Brave New World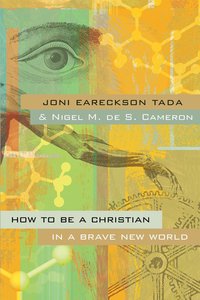 Stem-cell research. Cloning. Genetic engineering. Today, discoveries in biotechnology are occurring so rapidly that we can barely begin to address one ethical debate before another looms overhead. This brave new world we've entered is a daunting one as well, with disturbing implications for the sanctity of life and for human nature itself. How should we respond as Christians? Drawing on an abundance of cutting-edge information and life experience, Joni Eareckson Tada and Nigel M. de S. Cameron help you think through issues no Christian can afford to ignore. As a quadriplegic who has spent three decades advocating for the disability community out of a wheelchair, Joni offers the insights of a woman intimately acquainted with suffering and struggle. Dr. Cameron shares from his vast knowledge as one of today's foremost bioethics. Together, they offer deeply informed perspectives on such pressing issues as Human cloning Designer babies Redefining human nature Human harvesting Here is thoughtful, passionate, and gripping reading about the world that is coming---that, indeed, is already here---and how to live out your faith with conviction in its midst.

- Publisher
You May Also Be Interested In
About "How to Be a Christian in a Brave New World"
Stem-cell research. Cloning. Genetic engineering. Today, discoveries in biotechnology are occurring so rapidly that we can barely begin to address one ethical debate before another looms overhead. This brave new world we've entered is a daunting one as well, with disturbing implications for the sanctity of life and for human nature itself. How should we respond as Christians? Drawing on an abundance of cutting-edge information and life experience, Joni Eareckson Tada and Nigel M. de S. Cameron help you think through issues no Christian can afford to ignore. As a quadriplegic who has spent three decades advocating for the disability community out of a wheelchair, Joni offers the insights of a woman intimately acquainted with suffering and struggle. Dr. Cameron shares from his vast knowledge as one of today's foremost bioethics. Together, they offer deeply informed perspectives on such pressing issues as Human cloning Designer babies Redefining human nature Human harvesting Here is thoughtful, passionate, and gripping reading about the world that is coming---that, indeed, is already here---and how to live out your faith with conviction in its midst.
- Publisher


Meet the Authors
Joni Eareckson Tada
Joni Eareckson Tada has known the grace of God for 30 years after being after being paralysed from the neck down in a diving accident. Joni is president of JAF Ministries, an organization that accelerates Christian ministry among people with disabilities. She is also host of 'Joni and Friends', a daily radio program in the USA operating out of the International Disability Centre and a sought after conference speaker.
She is the author of more than 30 books, including the bestsellers Diamonds in the Dust, Heaven, and More Precious Than Silver.
In 2003 she was given the Gold Medallion Award for her book When God Weeps and in 2004 for co-authoring Hymns for a Kid's Heart, Volume 1. Her award winning and best-selling autobiography, Joni, was adapted as a full-length feature film. Tada also serves in an advisory capacity to many Institutes concerned with disability, writing and evangelism worldwide. She has been given many awards and holds several honourary doctorates. Joni and her husband, Ken, live in Southern California.