How to Break Growth Barriers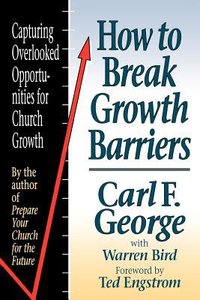 Experience growth in your congregation through delegation of authority and work. Perfect for pastors.

- Publisher The following pages present far more than a manual for church growth. It offers an amazing stimulus for effective ministry and outreach through that body believers of Jesus Christ.

- Publisher A guide for pastors who must break out of the shepherd mold and delegate authority and work if their congregation is to grow.

- Publisher
You May Also Be Interested In
About "How to Break Growth Barriers"
Experience growth in your congregation through delegation of authority and work. Perfect for pastors.
- Publisher

The following pages present far more than a manual for church growth. It offers an amazing stimulus for effective ministry and outreach through that body believers of Jesus Christ.
- Publisher

A guide for pastors who must break out of the shepherd mold and delegate authority and work if their congregation is to grow.
- Publisher


Meet the Authors
Warren Bird
Warren Bird (Ph.D., Fordham University) has collaboratively authored nineteen books (including two 100,000 bestsellers, one Gold Medallion winner, and one runner up for the Gold Medallion), served as associate pastor for eleven years and senior pastor for four years, taught as regularly contributing faculty at Alliance Theological Seminary for twelve years, and served on the senior leadership team of three organizations that provide training to pastors - Charles E. Fuller Institute, Canadian Centre for Leadership Development, and the Beeson Institute for Advanced Church Leadership.
Ted Engstrom (Fwd)
At the time of his death, Engstrom was President Emeritus of World Vision International. He also was formerly Executive Director and President of Youth for Christ International. He authored over 50 books.