How to Break Growth Barriers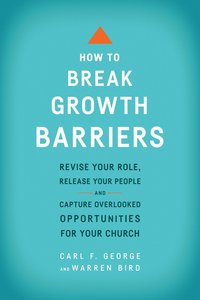 Some churches grow rapidly, only to hit a ceiling. Other churches have experienced declining or static attendance--many of them for decades. Frustrated pastors and church leaders want growth methods that work, but without adding to pastoral fatigue.

How to Break Growth Barriers argues that growth comes when effective leadership and lay-empowerment skills work hand in hand. This requires a shift of focus from the shepherd as the primary caregiver to shepherd as developer and coach of many caregivers. The authors show pastors how to communicate a vision for the future and then how to lead the congregation into the paradigms necessary for potentially limitless growth.

The strategies found in this book are not only tried and true, and taken from a biblical perspective of a "harvest" vision. They're also newly updated to reflect our changing culture, including helpful charts and checklists for self-evaluation.

- Publisher
You May Also Be Interested In
About "How to Break Growth Barriers"
Some churches grow rapidly, only to hit a ceiling. Other churches have experienced declining or static attendance--many of them for decades. Frustrated pastors and church leaders want growth methods that work, but without adding to pastoral fatigue.

How to Break Growth Barriers argues that growth comes when effective leadership and lay-empowerment skills work hand in hand. This requires a shift of focus from the shepherd as the primary caregiver to shepherd as developer and coach of many caregivers. The authors show pastors how to communicate a vision for the future and then how to lead the congregation into the paradigms necessary for potentially limitless growth.

The strategies found in this book are not only tried and true, and taken from a biblical perspective of a "harvest" vision. They're also newly updated to reflect our changing culture, including helpful charts and checklists for self-evaluation.
- Publisher


Meet the Authors
Warren Bird
Warren Bird (Ph.D., Fordham University) has collaboratively authored nineteen books (including two 100,000 bestsellers, one Gold Medallion winner, and one runner up for the Gold Medallion), served as associate pastor for eleven years and senior pastor for four years, taught as regularly contributing faculty at Alliance Theological Seminary for twelve years, and served on the senior leadership team of three organizations that provide training to pastors - Charles E. Fuller Institute, Canadian Centre for Leadership Development, and the Beeson Institute for Advanced Church Leadership.