How to Choose a Translation For All Its Worth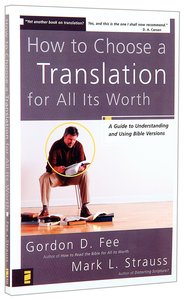 With so many Bible translations available today, how can you find those that will be most useful to you? What is the difference between a translation that calls itself "literal" and one that is more "meaning-based"? And what difference does it make for you as a reader of God's Word?

How to Choose a Translation for All Its Worth brings clarity and insight to the current debate over translations and translation theories. Written by two seasoned Bible translators, here is an authoritative guide through the maze of translations issues, written in language that everyday Bible readers can understand.

Learn the truth about both the word-for-word and meaning-for-meaning translations approaches. Find out what goes into the whole process of translation, and what makes a translation accurate and reliable. Discover the strengths and potential weaknesses of different contemporary English Bible versions. In the midst of the present confusion over translations, this authoritative book speaks with an objective, fair-minded, and reassuring voice to help pastors, everyday Bible readers, and students make wise, well-informed choices about which Bible translations they can depend on and which will best meet their needs.

- Publisher Mark Strauss (PhD, Aberdeen) is professor of New Testament at Bethel Seminary in San Diego. He has written The Davidic Messiah in Luke-Acts, Distorting Scripture?, The Challenge of Bible Translation and Gender Accuracy, and Luke in the Zondervan Illustrated Bible Background Commentary series. Forthcoming books include The Gospels and Jesus, Mark in the revised Expositor's Bible Commentary series, and Mark in the Zondervan Exegetical Commentary series.

- Publisher
You May Also Be Interested In
About "How to Choose a Translation For All Its Worth"
With so many Bible translations available today, how can you find those that will be most useful to you? What is the difference between a translation that calls itself "literal" and one that is more "meaning-based"? And what difference does it make for you as a reader of God's Word?

How to Choose a Translation for All Its Worth brings clarity and insight to the current debate over translations and translation theories. Written by two seasoned Bible translators, here is an authoritative guide through the maze of translations issues, written in language that everyday Bible readers can understand.

Learn the truth about both the word-for-word and meaning-for-meaning translations approaches. Find out what goes into the whole process of translation, and what makes a translation accurate and reliable. Discover the strengths and potential weaknesses of different contemporary English Bible versions. In the midst of the present confusion over translations, this authoritative book speaks with an objective, fair-minded, and reassuring voice to help pastors, everyday Bible readers, and students make wise, well-informed choices about which Bible translations they can depend on and which will best meet their needs.
- Publisher

Mark Strauss (PhD, Aberdeen) is professor of New Testament at Bethel Seminary in San Diego. He has written The Davidic Messiah in Luke-Acts, Distorting Scripture?, The Challenge of Bible Translation and Gender Accuracy, and Luke in the Zondervan Illustrated Bible Background Commentary series. Forthcoming books include The Gospels and Jesus, Mark in the revised Expositor's Bible Commentary series, and Mark in the Zondervan Exegetical Commentary series.
- Publisher


Meet the Authors
Gordon D Fee
Gordon D. Fee (Ph.D., University of Southern California) is Emeritus Professor of New Testament at Regent College, Vancouver, Canada specializing in New Testament criticism.
He has authored commentaries on 1 Corinthians; 1 and 2 Thessalonians (NICNT), Philippians (IVPNTC/ NICNT); Galatians (The Pentecostal Commentary); Revelation (New Covenant Commentary) and the Pastoral Epistles (NIBC), as well as books on exegesis, hermeneutics and the Holy Spirit.
These include the bestsellers How To Read the Bible for all its Worth (with Douglas K. Stuart, Zondervan); How to Read the Bible Book by Book: A Guided Tour (Zondervan).
Dr Fee has made a major contribution to Academic Pentecostalism and Evangelicalism serving as Editor of the New International Commentary on the New Testament, and through his major academic commentaries and pioneering books God's Empowering Presence and Pauline Christology: An Exegetical-Theological Study.
Koorong -Editorial Review.
Mark L Strauss
Mark L. Strauss (PhD., University of Aberdeen) is professor of New Testament at Bethel Seminary in San Diego. He is the author of The Davidic Messiah in Luke-Acts; Distorting Scripture? The Challenge of Bible Translation and Gender Accuracy; Luke in the Illustrated Bible Background Commentary; The Essential Bible Companion; and Four Portraits, One Jesus: An Introduction to Jesus and the Gospels.
He has recently completed the The Gospel of Mark for Expositor's Bible Commentary and is writing The Gospel of Mark for the Zondervan Exegetical Commentary. His professional associations include the Evangelical Theological Society, the Institute for Biblical Research and the Society of Biblical Literature. He is a frequent preacher at San Diego area churches and has served in three interim pastorates.
Customer Reviews For "How to Choose a Translation For All Its Worth"
Write Your Own Review
Helpful, though heavy
By Roo,

Dec 06 2007
As a Bible student and teacher, I love books like this one. Despite being a slow reader, I've ploughed through more than half the book in a couple of nights. (I can't spoil the ending because I'm yet to read it!)

Fee & Strauss give a tantalising survey of the issues involved in translation, so that regular users can judge between the myriad English versions. They offer many good examples, from virtually every version in use today.

Many people will enjoy the book, but it definitely errs towards the technical side of translation. The authors are strong proponents of dynamic/functional equivalence, and could have devoted a little more space to WHY it's more important to preserve the meaning of Scripture rather than the grammar of the original. Nor do they appear to engage at all with those who would argue in favour of the latter.

Be wary of the title. This isn't a book for everyone. Nor is it merely a superficial guide to different versions. But for those with interest in or responsibility for choosing between versions, or any interest at all in translation, it's a well-written presentation by two professionals. They clearly love the Bible, and want to make it accessible for God's church to whom it was given.
{{review.title}}
By {{review.author.name}},

{{review.reviewCreatedDate | date:'MMM dd yyyy'}}

{{reviewdescription}}
{{review.text}}
---