How to Handle Adversity (Charles Stanley Discipleship Series)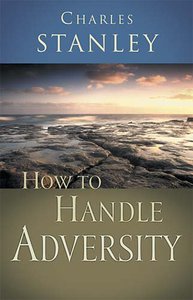 < p> The loss of a job. A rebellious child. A loved one dies. A dear friend has been diagnosed with cancer. A struggling marriage. Financial hardships.< /p> < p> The list is endless. When hard times come, we need wisdom to navigate through the shoals of adversity into a safe harbor. And now, in < i> How to Handle Adversity, < /i> Charles Stanley offers a practical, biblical approach to help us deal with the troubles common to us all.< /p> < p> Adversity is a reality that no one can avoid. Everyone asks < i> why< /i> when adversity strikes. Yet Stanley contends, "As much as we all want to know the answer to the < i> why< /i> question, it is really not the most significant question. The real question each of us needs to ask is, 'How should I respond?'< /p> < p> Previously published in hardcover (0-8407-9094-5)< /p>

- Publisher
You May Also Be Interested In
About "How to Handle Adversity (Charles Stanley Discipleship Series)"
< p> The loss of a job. A rebellious child. A loved one dies. A dear friend has been diagnosed with cancer. A struggling marriage. Financial hardships.< /p> < p> The list is endless. When hard times come, we need wisdom to navigate through the shoals of adversity into a safe harbor. And now, in < i> How to Handle Adversity, < /i> Charles Stanley offers a practical, biblical approach to help us deal with the troubles common to us all.< /p> < p> Adversity is a reality that no one can avoid. Everyone asks < i> why< /i> when adversity strikes. Yet Stanley contends, "As much as we all want to know the answer to the < i> why< /i> question, it is really not the most significant question. The real question each of us needs to ask is, 'How should I respond?'< /p> < p> Previously published in hardcover (0-8407-9094-5)< /p>
- Publisher


Meet the Author
Charles Stanley
Dr. Charles F. Stanley is founder and president of In Touch Ministries, which is broadcast on both television and radio around the world in eighty languages. He has also been the senior pastor of the 15,000-member First Baptist Church in Atlanta, Georgia, for more than thirty years. Dr. Stanley received his bachelor of arts degree from the University of Richmond, his bachelor of divinity degree from Southwestern Theological Seminary, and his master's and doctor's degrees from Luther Rice Seminary. He has twice been elected president of the Southern Baptist Convention and is the author of many books, including God Is in Control, Seeking His Face, Walking Wisely, When the Enemy Strikes, Success God's Way, and How to Listen to God.- Publisher.
Other Titles In The "Charles Stanley Discipleship" Series View All