How to Hit a Curveball, Grill the Perfect Steak, and Become a Real Man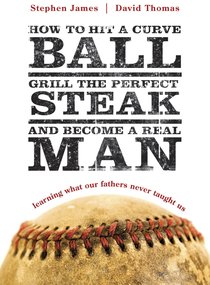 What guy doesn't need some pointers on how to be the man he wants to be? And we know that being a man is so much more than building a successful career and mastering the mechanics of daily life (like oil changes), those functional things are really important too. By addressing the basic, primal, and archetypal moments that all men experience, this book helps men become more invested in their passions, their families, their lives, and God.

- Publisher
You May Also Be Interested In
About "How to Hit a Curveball, Grill the Perfect Steak, and Become a Real Man"
What guy doesn't need some pointers on how to be the man he wants to be? And we know that being a man is so much more than building a successful career and mastering the mechanics of daily life (like oil changes), those functional things are really important too. By addressing the basic, primal, and archetypal moments that all men experience, this book helps men become more invested in their passions, their families, their lives, and God.
- Publisher


Meet the Authors
Stephen James
Steven James, known as one of the nation's most innovative storytellers, has authored twelve books and has spoken more than one thousand times across North America in the past five years. When Steven completed his master's degree in storytelling in 1997, there were fewer than one hundred people in the world with this degree. Through his writing and speaking, he has creatively communicated a message of hope and humor to more than 500,000 people over the last decade. A
David Thomas
David M. Thomas, Ph.D. Director of the National Marriage Institute.