How to Know God Exists: Scientific Proof of God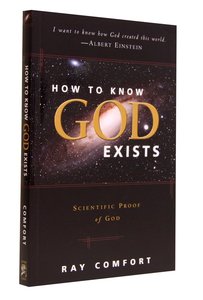 How to Know God Exists Answers many evolution books on the best-seller list. Ray Comfort is a well know TV and Radio personality. The style of writing is easy for everyone to follow.

- Publisher With a recent wave of books on atheism becoming New York Times best-sellers, the God debate is heating up. Because of the implications, it's the most significant question of all time: Is there a God, or isn't there? In this compelling book, Ray Comfort argues the case with simple logic and common sense. If there is a God, surely He has made His presence known so that anyone-young or old, scholar or schoolchild-can find Him.

- Publisher
You May Also Be Interested In
About "How to Know God Exists: Scientific Proof of God"
How to Know God Exists Answers many evolution books on the best-seller list. Ray Comfort is a well know TV and Radio personality. The style of writing is easy for everyone to follow.
- Publisher

With a recent wave of books on atheism becoming New York Times best-sellers, the God debate is heating up. Because of the implications, it's the most significant question of all time: Is there a God, or isn't there? In this compelling book, Ray Comfort argues the case with simple logic and common sense. If there is a God, surely He has made His presence known so that anyone-young or old, scholar or schoolchild-can find Him.
- Publisher


Meet the Author
Ray Comfort
Ray Comfort of Living Waters Publications (LWP) and Way of the Master is an internationally-renowned Christian evangelist, speaker and author. He has written over 40 books and LWP produces and distributes close to 6 million tracts each year (that practically give themselves away) and also offers the Excellence in Evangelism video series. His ministry has been commended by Franklin Graham, Josh McDowell, Dr. D. James Kennedy, Bill Gothard, David Wilkerson, Joni Eareckson Tada, and many other Christian leaders.
Most recently he has authored Moody Gold and Conquer Your Fear, Share Your Faith and Comfort Food.