How to Make Life Work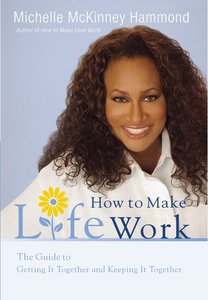 Bestselling diva Michelle McKinney Hammond dishes on her tips for making the most of every day in this sassy "owner's guide" to living the life you want.< BR /> < BR /> Are circumstances of life pushing you around? Are you tired of feeling like a victim? It's time to stand up and live large In this hands-on owners guide to life, Michelle McKinney Hammond teaches you to take a deep breath, stand tall, and take charge of your situation. < BR /> Taking a look at readers' innate gifts, Michelle studies the clues to finding our purpose, nurturing our spirits, minds, and bodies, and establishing balance in our many different relationships. Through it all, Michelle gives us a refreshing picture of what life is supposed to look like according to the Manufacturer's design. HOW TO MAKE LIFE WORK includes a fun, high-design interior that makes it a breezy, playful read.

- Publisher
You May Also Be Interested In
About "How to Make Life Work"
Bestselling diva Michelle McKinney Hammond dishes on her tips for making the most of every day in this sassy "owner's guide" to living the life you want.< BR /> < BR /> Are circumstances of life pushing you around? Are you tired of feeling like a victim? It's time to stand up and live large In this hands-on owners guide to life, Michelle McKinney Hammond teaches you to take a deep breath, stand tall, and take charge of your situation. < BR /> Taking a look at readers' innate gifts, Michelle studies the clues to finding our purpose, nurturing our spirits, minds, and bodies, and establishing balance in our many different relationships. Through it all, Michelle gives us a refreshing picture of what life is supposed to look like according to the Manufacturer's design. HOW TO MAKE LIFE WORK includes a fun, high-design interior that makes it a breezy, playful read.
- Publisher


Meet the Author
Michelle Mckinney Hammond
Michelle McKinney Hammond is a freelance writer, counselor, singer/songwriter, public speaker, and television co-host. She is known for blending a refreshing femininity with hard-hitting reality checks. She has written twenty-six books, including The DIVA Principle and the bestselling titles Sassy, Single and Satisfied and Secrets of an Irresistible Woman. You can find her Web site at www.michellehammond.com.