How to Pray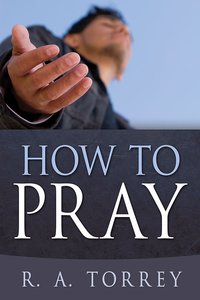 Your prayer life can be what God intends it to be! Because prayer is so vital to our faith, it is essential that we comprehend God's methods of hearing and answering prayer. R. A. Torrey shares spiritual guidelines to prayer in this powerful and dynamic book. His message is thorough and complete, including: prayer and obedience, praying in the Spirit, praying according to God's will, abiding in Christ, prayer with thanksgiving, hindrances to prayer, when to pray, prayer and revival, plus much more! The lessons presented here and lovingly explained will permanently alter your prayer life.

- Publisher
You May Also Be Interested In
About "How to Pray"
Your prayer life can be what God intends it to be! Because prayer is so vital to our faith, it is essential that we comprehend God's methods of hearing and answering prayer. R. A. Torrey shares spiritual guidelines to prayer in this powerful and dynamic book. His message is thorough and complete, including: prayer and obedience, praying in the Spirit, praying according to God's will, abiding in Christ, prayer with thanksgiving, hindrances to prayer, when to pray, prayer and revival, plus much more! The lessons presented here and lovingly explained will permanently alter your prayer life.
- Publisher


Meet the Author
R A Torrey
R. A. Torrey (1856 - 1928) was an American evangelist and Bible scholar. A graduate of Yale College and Seminary, he also studied in German universities. He was ordained to the Congregational ministry in 1878, and became superintendent of the Congregational City Missionary Society of Minneapolis. He had a long association with D. L. Moody and was the first superintendent of the Moody Bible Institute (1889 - 1908). He wrote numerous devotional and theological books, including What the Bible Teaches, How to Work for Christ, and The Person and Work of the Holy Spirit.
Table Of Contents
Your Prayer Life Can Be What God Intends It To Be! Because Prayer Is So Vital To Our Faith, It Is Essential That We Comprehend God's Methods Of Hearing And Answering Prayer. R. A. Torrey Shares Spiritual Guidelines To Prayer In This Powerful And Dynamic Book. His Message Is Thorough And Complete, Including: Prayer And Obedience, Praying In The Spirit, Praying According To God's Will, Abiding In Christ, Prayer With Thanksgiving, Hindrances To Prayer, When To Pray, Prayer And Revival, Plus Much More! The Lessons Presented Here And Lovingly Explained Will Permanently Alter Your Prayer Life.