How to Read the Bible as Literature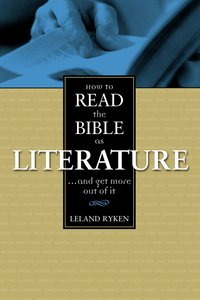 Why the Good Book Is a Great Read If you want to rightly understand the Bible, you must begin by recognizing what it is: a composite of literary styles. It is meant to be read, not just interpreted. The Bible's truths are embedded like jewels in the rich strata of story and poetry, metaphor and proverb, parable and letter, satire and symbolism. Paying attention to the literary form of a passage will help you understand the meaning and truth of that passage. How to Read the Bible as Literature takes you through the various literary forms used by the biblical authors. This book will help you read the Bible with renewed appreciation and excitement and gain a more profound grasp of its truths. Designed for maximum clarity and usefulness, How to Read the Bible as Literature includes * sidebar captions to enhance organization * wide margins ideal for note taking * suggestions for further reading * appendix: "The Allegorical Nature of the Parables" * indexes of persons and subjects
- Publisher
You May Also Be Interested In
About "How to Read the Bible as Literature"
Why the Good Book Is a Great Read If you want to rightly understand the Bible, you must begin by recognizing what it is: a composite of literary styles. It is meant to be read, not just interpreted. The Bible's truths are embedded like jewels in the rich strata of story and poetry, metaphor and proverb, parable and letter, satire and symbolism. Paying attention to the literary form of a passage will help you understand the meaning and truth of that passage. How to Read the Bible as Literature takes you through the various literary forms used by the biblical authors. This book will help you read the Bible with renewed appreciation and excitement and gain a more profound grasp of its truths. Designed for maximum clarity and usefulness, How to Read the Bible as Literature includes * sidebar captions to enhance organization * wide margins ideal for note taking * suggestions for further reading * appendix: "The Allegorical Nature of the Parables" * indexes of persons and subjects
- Publisher
Meet the Author
Leland Ryken
Leland Ryken (Ph.D., University of Oregon) is Clyde S. Kilby Professor of English at Wheaton College in Wheaton, Illinois. He is the author of more than one hundred published articles and essays, and he has written, edited or contributed to (so far) twenty-five books, including The Word of God in English: Criteria for Excellence in Bible Translation (Crossway), The Christian Imagination: The Practice of Faith in Literature and Writing (Shaw), Dictionary of Biblical Imagery (InterVarsity Press), The Discerning Reader: Christian Perspectives on Literature and Theory (Baker) and A Complete Literary Guide to the Bible (Zondervan).
His most recent books have been on C.S.Lewis' works A Reader's Guide Through the Wardrobe and A Reader's Guide to Caspian: A Journey into C. S. Lewis's Narnia and Understanding English Bible Translation: The Case for an Essentially Literal Approach. He is a frequent speaker at the Evangelical Theological Society and served as literary stylist for The Holy Bible, English Standard Version.
Koorong -Editorial Review.
Table Of Contents
why The Good Book Is A Great Read If You Want To Rightly Understand The Bible, You Must Begin By Recognizing What It Is: A Composite Of Literary Styles. It Is Meant To Be Read, Not Just Interpreted. The Bible's Truths Are Embedded Like Jewels In The Rich Strata Of Story And Poetry, Metaphor And Proverb, Parable And Letter, Satire And Symbolism. Paying Attention To The Literary Form Of A Passage Will Help You Understand The Meaning And Truth Of That Passage. How To Read The Bible As Literature Takes You Through The Various Literary Forms Used By The Biblical Authors. This Book Will Help You Read The Bible With Renewed Appreciation And Excitement And Gain A More Profound Grasp Of Its Truths. Designed For Maximum Clarity And Usefulness, How To Read The Bible As Literature Includes * Sidebar Captions To Enhance Organization * Wide Margins Ideal For Note Taking * Suggestions For Further Reading * Appendix: "the Allegorical Nature Of The Parables" * Indexes Of Persons And Subjects

Preface

1. Is The Bible Literature?

2. The Stories Of The Bible

3. Types Of Biblical Stories

4. The Poetry Of The Bible

5. Types Of Biblical Poetry

6. The Proverb As A Literary Form

7. The Gospels

8. Parables

9. The Epistles

10. Satire

11. Visionary Literature

12. The Literary Unity Of The Bible

Appendix: The Allegorical Nature Of The Parables

Index Of Persons

Index Of Subjects
Excerpt
Excerpt from: How to Read the Bible as Literature
Why the Good Book Is a Great Read If you want to rightly understand the Bible, you must begin by recognizing what it is: a composite of literary styles. It is meant to be read, not just interpreted. The Bible's truths are embedded like jewels in the rich strata of story and poetry, metaphor and proverb, parable and letter, satire and symbolism. Paying attention to the literary form of a passage will help you understand the meaning and truth of that passage. How to Read the Bible as Literature takes you through the various literary forms used by the biblical authors. This book will help you read the Bible with renewed appreciation and excitement and gain a more profound grasp of its truths. Designed for maximum clarity and usefulness, How to Read the Bible as Literature includes * sidebar captions to enhance organization * wide margins ideal for note taking * suggestions for further reading * appendix: "The Allegorical Nature of the Parables" * indexes of persons and subjects