How to Start a New Service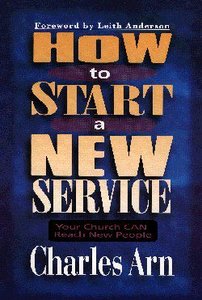 Raymond W. Hurn: "For 20 years I have benefited from the creative flow of ideas from the mind and heart of Dr. Charles Arn. His new book 'How to Start a New Service' flows with sparkling ideas and skillful methods--based on excellent research--for lay and clergy leaders who long to reach new people."Clarence A. Kopp: "Charles Arn has done wonderful research of a very valuable approach to reaching the unchurched. This very practicable and understandable book should be read by pastors, church planters, and congregational leaders. In fifty years in ministry and supervision, I havenot seen a resource that I would recommend more highly."Lyle Schaller: "Half of the congregation in North Americaa need to expand their weekend worship services. Read this book and you will learn how to do it succcessfully."Ray W. Ellis: "This is a timely book that gives insight by a leading church consultant to help pastors and lay readers maximize church facilities and ministries for outreach and growth. How to Start a New Service is the best book I have read on how to start new worship services in the local church."Dirk J. Hart: "I get more questions from pastors and planning committees on multiple worship services than any other subject. Now there's a primary source that I can recommend. Even if you are only beginning to think about adding a worship service to your weekend schedule, get this book. It will steer you into the right direction and help you make good decisions. And if you have reached near capacity on Sunday morning, or want to reach a new group of people, or start a new church, this book will give you a wealth of information and choices."Win Arn: "How to Start a New Service is loaded with insights for any pastor with a heart for reaching others. Charles Arn is one of the most insightful thinkers in the church growth field today. Of course, I may be somewhat prejudiced!"Leith Anderson: "It's a good book. Exciting. I kept asking myself 'What if this really works?' Imagine thousands of churches across America following Charles' prescription. It would be wonderful."Gary L. McIntosh: "How to Start a New Service demonstrates why Charles Arn is a leading spokesperson for the Church Growth Movement. Destined to be a classic, this strategic book presents both the "why's" and "hows" of adding new style worship services which will reach new people for Christ. Do you desire to see an increase in your total worship attendance? Then buy, read, and use this book."Kevin A. Miller: "'Should our church start a new service?' is a critical question for thousands of church leaders today. Charles Arn's national research gives clear, practical answers. Here's what you need to know before you grow."Kenneth W. Behnkin: "Charles Arn provides a much needed book for the church on a timely topic that continues to stir controversy. How to Start a New Service is not a philosophical dissertation on what might work. It is a practical tool, based on documented research, which shares strategic plans and tested procedures that lead to the implementation of a new form of worship. This book should become a much used resource in the library of every pastor and church leader that seeks to relate the Gospel of Jesus Christ to an ever changing world."Charles Hackett: "This book provides all the information any pastor would need to add a new church service. It is through and complete."Marlin Mull: "Dr. Charles Arn uses a balanced approach to the subject. His throughly researched conclusions about adding a new service will help any leader considering the idea. This book is a 'must' read on the subject."BILL M. Sullivan: "This book tells you anything you ever wanted to know about how to start a new service. Charles Arn leaves 'no stone unturned.' Pastors shouldn't even think about starting a new service until they have read this book."Bill Sheeks: "Charles Arn's book How to Start a New Service is a tremendous motivator. It is the most co

- Publisher Based on a five-year study showing that adding a new service results in increased attendance, giving, and conversions.

- Publisher
You May Also Be Interested In
About "How to Start a New Service"
Raymond W. Hurn: "For 20 years I have benefited from the creative flow of ideas from the mind and heart of Dr. Charles Arn. His new book 'How to Start a New Service' flows with sparkling ideas and skillful methods--based on excellent research--for lay and clergy leaders who long to reach new people."Clarence A. Kopp: "Charles Arn has done wonderful research of a very valuable approach to reaching the unchurched. This very practicable and understandable book should be read by pastors, church planters, and congregational leaders. In fifty years in ministry and supervision, I havenot seen a resource that I would recommend more highly."Lyle Schaller: "Half of the congregation in North Americaa need to expand their weekend worship services. Read this book and you will learn how to do it succcessfully."Ray W. Ellis: "This is a timely book that gives insight by a leading church consultant to help pastors and lay readers maximize church facilities and ministries for outreach and growth. How to Start a New Service is the best book I have read on how to start new worship services in the local church."Dirk J. Hart: "I get more questions from pastors and planning committees on multiple worship services than any other subject. Now there's a primary source that I can recommend. Even if you are only beginning to think about adding a worship service to your weekend schedule, get this book. It will steer you into the right direction and help you make good decisions. And if you have reached near capacity on Sunday morning, or want to reach a new group of people, or start a new church, this book will give you a wealth of information and choices."Win Arn: "How to Start a New Service is loaded with insights for any pastor with a heart for reaching others. Charles Arn is one of the most insightful thinkers in the church growth field today. Of course, I may be somewhat prejudiced!"Leith Anderson: "It's a good book. Exciting. I kept asking myself 'What if this really works?' Imagine thousands of churches across America following Charles' prescription. It would be wonderful."Gary L. McIntosh: "How to Start a New Service demonstrates why Charles Arn is a leading spokesperson for the Church Growth Movement. Destined to be a classic, this strategic book presents both the "why's" and "hows" of adding new style worship services which will reach new people for Christ. Do you desire to see an increase in your total worship attendance? Then buy, read, and use this book."Kevin A. Miller: "'Should our church start a new service?' is a critical question for thousands of church leaders today. Charles Arn's national research gives clear, practical answers. Here's what you need to know before you grow."Kenneth W. Behnkin: "Charles Arn provides a much needed book for the church on a timely topic that continues to stir controversy. How to Start a New Service is not a philosophical dissertation on what might work. It is a practical tool, based on documented research, which shares strategic plans and tested procedures that lead to the implementation of a new form of worship. This book should become a much used resource in the library of every pastor and church leader that seeks to relate the Gospel of Jesus Christ to an ever changing world."Charles Hackett: "This book provides all the information any pastor would need to add a new church service. It is through and complete."Marlin Mull: "Dr. Charles Arn uses a balanced approach to the subject. His throughly researched conclusions about adding a new service will help any leader considering the idea. This book is a 'must' read on the subject."BILL M. Sullivan: "This book tells you anything you ever wanted to know about how to start a new service. Charles Arn leaves 'no stone unturned.' Pastors shouldn't even think about starting a new service until they have read this book."Bill Sheeks: "Charles Arn's book How to Start a New Service is a tremendous motivator. It is the most co
- Publisher

Based on a five-year study showing that adding a new service results in increased attendance, giving, and conversions.
- Publisher


Meet the Author
Charles Arn
Win Arn is founder of the American Institute of Church Growth and Church Growth, Inc. He is the author of more than a dozen books and numerous films. As a respected church leader, Dr. Arn has led seminars and training sessions for clergy and laity around the world. Charles Arn is president of Church Growth, Inc., a research, development, and consulting organization specializing in congregational ministry and growth. Dr. Arn is a widely respected authority in the field of congregational growth strategy. His doctoral degree is from the University of Southern California.
Table Of Contents
1. Why Start A New Service?
2. The Role Of The Pastor
3. Getting The Church On Board
4. What Kinds Of Service Do You Want?
5. What Kinds Of Service Do They Want?
6. When And Where To Meet
7. Designing The Service
8. Getting People To Come
9. Evaluating The Service
10. Getting People To Come Back