How to Talk So People Will Listen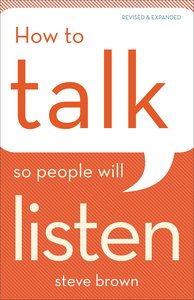 Words are powerful when they are used correctly. If readers want to motivate their kids or employees, convince bosses to give them a raise, speak with confidence to large groups of people, or give a report that won't leave people snoozing, How to Talk So People Will Listen is the classic resource they need. Expert communicator Steve Brown shows readers how to speak with authority, win an argument, overcome their fears of public speaking, and more.

- Publisher
You May Also Be Interested In
About "How to Talk So People Will Listen"
Words are powerful when they are used correctly. If readers want to motivate their kids or employees, convince bosses to give them a raise, speak with confidence to large groups of people, or give a report that won't leave people snoozing, How to Talk So People Will Listen is the classic resource they need. Expert communicator Steve Brown shows readers how to speak with authority, win an argument, overcome their fears of public speaking, and more.
- Publisher


Meet the Author
Steve Brown
Dr. Steve Brown is one of the most sought after preachers and conference speakers in the country. Having had extensive radio experience before entering the ministry, he is now heard daily on the national radio program, Key Life, and an afternoon talk show. He served as the senior pastor of Key Biscayne Presbyterian Church for 17 years before joining the Reformed Theological Seminary faculty as Professor of Preaching. He is the author of more than a dozen books including How To Speak So People Will Listen, Jumping Hurdles, Hitting Glitches; Overcoming Setbacks, Scandalous Freedom, When being Good is not good enough, and What was I thinking?. Dr. Brown has also served on the board of Christianity Today. His TV program, Hashing It Out, a discussion of issues with Tony Campolo, is seen in 25 million homes weekly, and his TV program, The Late Steve Brown, was widely viewed on Sunday evenings
Table Of Contents
Words Are Powerful When They Are Used Correctly. If Readers Want To Motivate Their Kids Or Employees, Convince Bosses To Give Them A Raise, Speak With Confidence To Large Groups Of People, Or Give A Report That Won't Leave People Snoozing, how To Talk So People Will Listen Is The Classic Resource They Need. Expert Communicator Steve Brown Shows Readers How To Speak With Authority, Win An Argument, Overcome Their Fears Of Public Speaking, And More.