I Became a Christian and All I Got Was This Lousy T-Shirt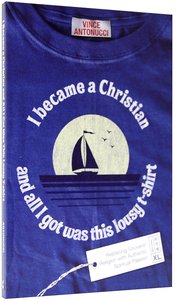 Many people find themselves asking, ???Is this it???? ???We all read about the life Jesus describes and are painfully aware that our lives don???t match his words, ??? says Vince Antonucci, a disarmingly funny and edgy pastor. Raised by a Jewish mother and abandoned by his professional poker-playing father, Antonucci found Jesus at age twenty after studying the New Testament. When he finally went to church, he was disappointed to discover a ???boring, stale religion.??? Through provocative storytelling and raw honesty, Antonucci unearths the life Jesus lived and wants us to experience, challenging us to move past spiritual boredom into a faith that??'s exciting, beautiful, and powerful. Recommended for all Christians thirsty for a fresh perspective on Christianity.

- Publisher "I Became a Christian and All I Got Was This Lousy T-Shirt is the funniest and most sincere spiritual growth book I''ve ever experienced. If you''ve never known the joy of walking with Christ, Vince''s humor will entertain you as the truth of God''s love will melt you. This book will grab you from the first page and won''t let go until you''re closer to Jesus."Vince''s writing is hauntingly authentic, gut-wrenchingly funny, and profoundly spiritual. I had no idea I could laugh so hard, be moved so deeply, and crave Jesus more and more--all from reading one book."--Craig Groeschel, founding and senior pastor, LifeChurch.tv; author, Chazown"I don''t want to hear the same truths regurgitated in the same ways over and over again. Tell me something I don''t know. Challenge the way I think. Make me look in the mirror. And call me to a more Christ-centered life. I like Vince Antonucci for all of those reasons. His is a fresh voice in a world of tired ideas."This book will make you laugh and make you think. It will also make you reexamine your life. If you''re serious about trading in your souvenir religion for authentic spiritual passion, this book is a must read."--Mark Batterson, lead pastor, National Community Church; author, In a Pit with a Lion on a Snowy Day"Vince Antonucci is a powerful new voice for what it means to live an authentic Christian life today. He vividly describes a spiritual life filled with honesty, joy, humor, and conviction. Vince challenges us to stop trivializing our faith and pursue Jesus wholeheartedly. This book is a breath of fresh air!"--Jud Wilhite, senior pastor, Central Christian Church, Las Vegas; author, Stripped: Uncensored Grace on the Streets of Vegas"I can''t remember a time when I''ve been so encouraged and challenged by the same book. If you''re serious about learning how to follow Jesus in the real world, you must read this."--Brian Jones, author, Second Guessing God"Some people have something worth saying, but they''re as boring as the phone book. Other people are interesting, maybe even funny, but they are a few cards short in the deck of meaning. Vince is one of those rare pastors and writers who is both hilarious and substantial, and his faith isn''t just a T-shirt: it''s in his bones and marrow."--Brian D. McLaren, author (brianmclaren.net)"Vince writes masterfully on his journey with Jesus and where it is taking him. He''s a real deal kind of guy that I know and believe in. I loved it. I think we are seeing the emergence of a bright new author. This book is really good and is going to do a lot of good."--Bob Roberts Jr., founding pastor, NorthWood Church; author, Glocalization"Refreshing, hysterical, insightful . . . real! Vince does a great job reminding those of us who have been around the church a long time to take a new look at it, to see it from a non-Christians perspective, to look at our ''Christian life'' and ask, ''Would anyone want what we have?''"It would be a great book to hand to a new Christian. His practical look at what a ''true'' relationship with Jesus really looks like would save many a new believer from years of ''stumbling around'' trying to figure it all out."--Jim Putman, senior pastor, Real Life Ministries; author, Church Is a Team Sport"In I Became a Christian and All I Got Was This Lousy T-Shirt, Vince Antonucci gives an uplifting, insightful, and helpful recall of why following Jesus is worth all we have to give."--Doug Pagitt, pastor, Solomon''s Porch; author, A Christianity Worth Believing"A church without this book is like a kitchen without a church key (a.k.a. bottle opener): faith gets still and functional rather than sparkling and fun."--Leonard Sweet, professor, Drew University and George Fox University; www.sermons.com"In I Became a Christian and All I Got Was This Lousy T-Shirt, my good friend Vince Antonucci tells my absolute favorite story of someone finding his way back to God--his own story. It''s amazing! It''s funny! It''s a total God-thing! As Vince tells us his own story

- Publisher
You May Also Be Interested In
About "I Became a Christian and All I Got Was This Lousy T-Shirt"
Many people find themselves asking, ???Is this it???? ???We all read about the life Jesus describes and are painfully aware that our lives don???t match his words, ??? says Vince Antonucci, a disarmingly funny and edgy pastor. Raised by a Jewish mother and abandoned by his professional poker-playing father, Antonucci found Jesus at age twenty after studying the New Testament. When he finally went to church, he was disappointed to discover a ???boring, stale religion.??? Through provocative storytelling and raw honesty, Antonucci unearths the life Jesus lived and wants us to experience, challenging us to move past spiritual boredom into a faith that??'s exciting, beautiful, and powerful. Recommended for all Christians thirsty for a fresh perspective on Christianity.
- Publisher

"I Became a Christian and All I Got Was This Lousy T-Shirt is the funniest and most sincere spiritual growth book I''ve ever experienced. If you''ve never known the joy of walking with Christ, Vince''s humor will entertain you as the truth of God''s love will melt you. This book will grab you from the first page and won''t let go until you''re closer to Jesus."Vince''s writing is hauntingly authentic, gut-wrenchingly funny, and profoundly spiritual. I had no idea I could laugh so hard, be moved so deeply, and crave Jesus more and more--all from reading one book."--Craig Groeschel, founding and senior pastor, LifeChurch.tv; author, Chazown"I don''t want to hear the same truths regurgitated in the same ways over and over again. Tell me something I don''t know. Challenge the way I think. Make me look in the mirror. And call me to a more Christ-centered life. I like Vince Antonucci for all of those reasons. His is a fresh voice in a world of tired ideas."This book will make you laugh and make you think. It will also make you reexamine your life. If you''re serious about trading in your souvenir religion for authentic spiritual passion, this book is a must read."--Mark Batterson, lead pastor, National Community Church; author, In a Pit with a Lion on a Snowy Day"Vince Antonucci is a powerful new voice for what it means to live an authentic Christian life today. He vividly describes a spiritual life filled with honesty, joy, humor, and conviction. Vince challenges us to stop trivializing our faith and pursue Jesus wholeheartedly. This book is a breath of fresh air!"--Jud Wilhite, senior pastor, Central Christian Church, Las Vegas; author, Stripped: Uncensored Grace on the Streets of Vegas"I can''t remember a time when I''ve been so encouraged and challenged by the same book. If you''re serious about learning how to follow Jesus in the real world, you must read this."--Brian Jones, author, Second Guessing God"Some people have something worth saying, but they''re as boring as the phone book. Other people are interesting, maybe even funny, but they are a few cards short in the deck of meaning. Vince is one of those rare pastors and writers who is both hilarious and substantial, and his faith isn''t just a T-shirt: it''s in his bones and marrow."--Brian D. McLaren, author (brianmclaren.net)"Vince writes masterfully on his journey with Jesus and where it is taking him. He''s a real deal kind of guy that I know and believe in. I loved it. I think we are seeing the emergence of a bright new author. This book is really good and is going to do a lot of good."--Bob Roberts Jr., founding pastor, NorthWood Church; author, Glocalization"Refreshing, hysterical, insightful . . . real! Vince does a great job reminding those of us who have been around the church a long time to take a new look at it, to see it from a non-Christians perspective, to look at our ''Christian life'' and ask, ''Would anyone want what we have?''"It would be a great book to hand to a new Christian. His practical look at what a ''true'' relationship with Jesus really looks like would save many a new believer from years of ''stumbling around'' trying to figure it all out."--Jim Putman, senior pastor, Real Life Ministries; author, Church Is a Team Sport"In I Became a Christian and All I Got Was This Lousy T-Shirt, Vince Antonucci gives an uplifting, insightful, and helpful recall of why following Jesus is worth all we have to give."--Doug Pagitt, pastor, Solomon''s Porch; author, A Christianity Worth Believing"A church without this book is like a kitchen without a church key (a.k.a. bottle opener): faith gets still and functional rather than sparkling and fun."--Leonard Sweet, professor, Drew University and George Fox University; www.sermons.com"In I Became a Christian and All I Got Was This Lousy T-Shirt, my good friend Vince Antonucci tells my absolute favorite story of someone finding his way back to God--his own story. It''s amazing! It''s funny! It''s a total God-thing! As Vince tells us his own story
- Publisher


Meet the Author
Vince Antonucci
Vince Antonucci is the founder and lead pastor of Verve, an innovative church plant for the unchurched on the Las Vegas strip. Vince's passion is creatively communicating biblical truth to help people find God, and he also serves with the Emerging Leadership Initiative (ELI). He is the author of I Became a Christian and All I Got Was This Lousy T-Shirt and Guerrilla Lovers: Changing the World with Revolutionary Compassion.