I Beg to Differ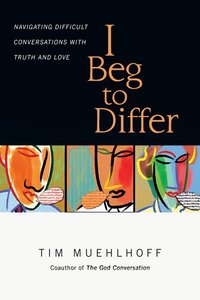 How do we communicate with people who disagree with us?In today's polarized world, friends and strangers clash with each other over issues large and small. Coworkers have conflicts in the office. Married couples fight over finances. And online commenters demonize one another's political and religious perspectives. Is there any hope for restoring civil discourse?Communications expert Tim Muehlhoff provides a strategy for having difficult conversations, helping us move from contentious debate to constructive dialogue. By acknowledging and entering into the other person's story, we are more likely to understand where they're coming from and to cultivate common ground. Insights from Scripture and communication theory provide practical ways to manage disagreements and resolve conflicts.We can disagree without being disagreeable. And we can even help another see different points of view and learn from one another. Find out how.

- Publisher
You May Also Be Interested In
About "I Beg to Differ"
How do we communicate with people who disagree with us?In today's polarized world, friends and strangers clash with each other over issues large and small. Coworkers have conflicts in the office. Married couples fight over finances. And online commenters demonize one another's political and religious perspectives. Is there any hope for restoring civil discourse?Communications expert Tim Muehlhoff provides a strategy for having difficult conversations, helping us move from contentious debate to constructive dialogue. By acknowledging and entering into the other person's story, we are more likely to understand where they're coming from and to cultivate common ground. Insights from Scripture and communication theory provide practical ways to manage disagreements and resolve conflicts.We can disagree without being disagreeable. And we can even help another see different points of view and learn from one another. Find out how.
- Publisher


Meet the Author
Tim Muehlhoff
Tim Muehlhoff (Ph.D., University of North Carolina at Chapel Hill) has served on the staff of Campus Crusade for Christ since 1986. He is currently an associate professor of communication at Biola University in La Mirada, California, where he teaches classes in interpersonal communication, rhetoric and gender.
Tim has written about God, communication and faith in diverse publications such as the Journal of Religion and Communication, Journal of Social and Personal Relationships, Mars Hill Review and Discipleship Journal.
He has co-authored The God Conversation: Using Stories and Illustrations to Explain Your Faith with J. P. Moreland -Tim Muehlhoff says that often the best way to win over others is with a good story. Stories have the ability to get behind our preconceptions and defences, and most recently he has co-authored Authentic Communication: Christian Speech Engaging Culture (Christian Worldview Integration Series) with Todd V. Lewis and Marriage Forecasting:Changing the Climate of Your Relationship One Conversation at a Time.
Table Of Contents
:foreword By Gregg Ten Elshofacknowledgmentsintroduction

Section One: Understanding Communication1 Reclaiming The Power Of Words2 What Causes Verbal Dams To Rupture?3 Managing And Expressing Emotions In The Midst Of Disagreement4 Spiritual Disciplines: Power To Resolve Conflict

Section Two: Organizing A Conversation5 Question One: What Does This Person Believe?6 Question Two: Why Does This Person Hold This Belief?7 Question Three: Where Do We Agree?8 The Rule Of Reciprocation: Why Steps One Through Three Work9 Question Four: Based On All I've Learned, How Should I Proceed?

Section Three: Putting It Into Practice10 Case Study One: Disagreeing About Finances11 Case Study Two: Disagreeing Over Religion In The Workplace12 Case Study Three: Teens And Excessive Use Of Video Games

Epiloguenotesname And Subject Indexscripture Index