I Declare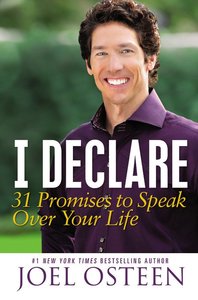 Broken into thirty-one segments, this book defines the most powerful blessings in Scripture and encourages readers to declare one each day for a month. The declarations will affirm God's blessings in the area of health, family legacy, decisions, finances, thoughts, outlook, and overcoming obstacles.

- Publisher
You May Also Be Interested In
About "I Declare"
Broken into thirty-one segments, this book defines the most powerful blessings in Scripture and encourages readers to declare one each day for a month. The declarations will affirm God's blessings in the area of health, family legacy, decisions, finances, thoughts, outlook, and overcoming obstacles.
- Publisher


Meet the Author
Joel Osteen
Joel Osteen (born 1963) is a native Texan and the Pastor of Lakewood Church, Houston, Texas, which according to Church Growth Today is America's largest and fastest growing church. In 2005 Joel had to move Lakewood Church into bigger premises, and at 16,000 seats it is the largest regularly-used worship centre in the United States. Each week Joel delivers God's message of hope and encouragement to more than 38,000 attendees. According to Nielsen Media Research, Joel is the most watched inspirational figure in America. His weekly sermon is broadcast into every U.S. television market where it is viewed by seven million Americans each week and more than 20 million each month. His weekly broadcast is also seen in almost 100 nations around the world.

Joel's first book, Your Best Life Now (2004), and second book, Become a Better You (2007) both debuted at the top of the New York Times bestseller list when they were released. They each have sold millions of copies, and have remained on the bestseller lists for months. Five more books from Joel have also become New York Times bestsellers.

Joel is the son of the late John Osteen, who was originally ordained as a Southern Baptist minister. After undergoing 'baptism in the Holy Spirit' in 1959, Osteen senior founded Lakewood Church in an abandoned feed store. The membership of this phenomenally successful charismatic church would eventually grow to 15,000. Joel attended Oral Roberts University in Tulsa, Oklahoma where he studied radio and television communications. In 1982, he returned to Houston and founded Lakewood's television ministry where he produced his father's televised sermons for 17 years.

For many years, John Osteen encouraged his son to preach, but Joel always declined, preferring to work behind the scenes. However, in early 1999 Joel felt compelled to accept his father's invitation and he preached his first sermon on January 17th of that year. Little did anyone know that would be the last Sunday of John Osteen's life - he died suddenly of a heart attack at age 77. Two weeks later, Joel began preaching regularly and later that year was installed as the new Senior Pastor of Lakewood Church.

Joel's extraordinary success can be found in his core message: That our God is a good God who desires to bless those who are obedient and faithful to Him through Jesus Christ. It is Joel's deepest desire that his own life be an example of that principle and that everyone who hears this message of hope and encouragement would choose to accept God's goodness and mercy and to become all that God wants them to be. Joel has been criticized from many quarters during his ministry, by those who are suspicious of 'prosperity gospel' teachings, and wary of megachurch evangelists. Joel remains focused on preaching God's blessing with integrity, and has steadfastly refused to be drawn into controversies about various hot-button topics, whether theological or social-cultural.

Joel is married to Victoria, who co-pastors Lakewood Church and is also a bestselling author. They were wed in 1987, and have two children, Jonathan and Alexandra.
Customer Reviews For "I Declare"
Write Your Own Review
Energising Read
By Elizabeth S,

Dec 18 2016
I was initially drawn to this book by Joel Osteen as I needed a new monthly devotional and I love Joel's positive Christian outlook on life.  Spending precious moments at the start of each day with "I Declare" has lifted my spirit and encouraged me that this life is a blessed life filled with God's goodness and mercy. The book combines a short punchy declaration to speak out over my life with a devotional and scripture encouraging me how great our lives are destined to be. It's the first Joel Osteen book I've read and I will be reading more.  God has blessed this author with an ability to connect to the everyday person like me. It's easy reading and a great way to spend the first 5 minutes of the day.  Highly Recommended.
---
It really works!
By KT,

Aug 21 2016
It really works! Declaration really really works. The power of life and death lies in our tongue, God has given us the choice to speak life or death over ourselves, and it's so important to declare right. This book is really helpful if you want to learn how. 
---
great read
By Brooke,

Mar 02 2016
This book is so encouraging. It's a great book on such an important subject : Your Words. I highly recommend it for people of all ages.
---
Inspirational Reading
By Dr. Bernard Low,

May 22 2015
After reading Osteen's You Can, You Will (please see my review of this book on www.koorong.com), I decided to pick up another book of his, I Declare, to better understand his theology. This book contains 31 chapters, each with a promise that the reader is encouraged to declare over his life. These promises are essentially about the good, healthy, prosperous, and blessed life that the reader can lead just by reading out loud and declaring them over one's life. Osteen believes in the power of words - for good and for ill. He teaches that what we say about ourselves and our lives can be self-fulfilling. Hence, to avoid a life without joy, blessings, prosperity, health, and so on, one must avoid speaking out loud negative words and language. Instead, one must speak positively and bless oneself by claiming God's promises. At first reading, one feels very much encouraged by the promises that Osteen has crafted for the reader to declare over himself. On critical reflection, however, one wishes to see the biblical bases of his promises. Also, one cannot help but wonder if such declarations really work and will change one's fortunes and destiny. It's too simplistic to be true. Much in the book also appears me-centered. That said, the book is an inspiring read. 
---
Uplifting
By Katie,

Sep 27 2013
I enjoyed this book.  A friend of mine gave it to me as a present when I was going through a tought time.  

The book is divided into 31 declarations to speak over your life.  There is the declaration for you to speak out loud, followed by a story or commentary about the declaration.

I loved the declarations and found them to be very uplifting.

Focusing on God's promises during a difficult time really helps lift you out of that difficult situation.

I would recommend this book to others. 
{{review.title}}
By {{review.author.name}},

{{review.reviewCreatedDate | date:'MMM dd yyyy'}}

{{reviewdescription}}
{{review.text}}
---