I Grew Up Little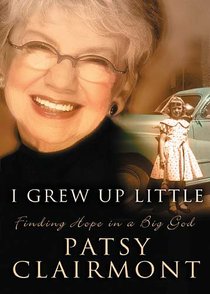 Patsy became a high school dropout, a teenage runaway, a bride at 17, and a parent at 20. She soon began to suffer from agoraphobia and became a prisoner in her own home. But to look at her now, walking back and forth across a stage talking to thousands of women, it's quite obvious that something has changed I Grew Up Little is the story of how that transformation took place and how God can change each of us, as well.

- Publisher
You May Also Be Interested In
About "I Grew Up Little"
Patsy became a high school dropout, a teenage runaway, a bride at 17, and a parent at 20. She soon began to suffer from agoraphobia and became a prisoner in her own home. But to look at her now, walking back and forth across a stage talking to thousands of women, it's quite obvious that something has changed I Grew Up Little is the story of how that transformation took place and how God can change each of us, as well.
- Publisher


Meet the Author
Patsy Clairmont
Patsy Clairmont comes from an uncommon background. Her years of suffering as a prisoner in her own home, a victim of agoraphobia, have given her a deep appreciation of God's healing power. God has pulled together the emotionally fragmented pieces of her life. From her emotionally troubled background God has combined her humor and her knowledge of His word to remind you that imperfect, "cracked" Christians are God's specialty.
Patsy now travels throughout the U.S. providing humor for the heart and hope for the healing. Currently, she is a speaker with the Women of Faith conferences, speaking to tens of thousands of women each month. In her eleven years with Women of Faith she has reached over 3 million women.
Patsy is also the author of the best-selling books God Uses Cracked Pots; Normal is Just a Setting on Your Dryer; Under His Wings; Sportin' a 'Tude; Tea with Patsy Clairmont and Pillow Prayers.