I Spy Gi Series 1 Group 1 (I Spy God Investigator Series)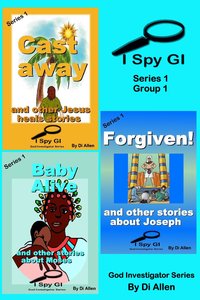 This book includes Cast Away - 4 stories about Jesus healing people, Forgiven! - 4 stories about Joseph, and Baby Alive - 4 stories about Moses (up to the Exodus). We all want to see our children succeed in life. The God Investigator Series (I Spy GI) now has 100 Bible stories available. Each story has accompanying activities to supply you with all you need to have fun while learning valuable life lessons. The series is based on being investigators - examining the evidence (Bible story), interviewing witnesses who might have been there, taking up a challenge, and determining what this has to do with us today. Books can be used for individual reading, small group activities (kids clubs, Sunday school), Christian family fun times, or even as a subject for Christian home schooling. Used weekly this gives you almost two years supply (100 sessions). That is good value! Extra expense is minimal. Want to see what they are like? I Spy GI Free Gift is available for you to download (free). Each book includes stories, interviews, activities, memory verse activities, life applications, challenges, video clips, and helps for small group leaders and parents. Enjoy!

- Publisher
You May Also Be Interested In
About "I Spy Gi Series 1 Group 1 (I Spy God Investigator Series)"
This book includes Cast Away - 4 stories about Jesus healing people, Forgiven! - 4 stories about Joseph, and Baby Alive - 4 stories about Moses (up to the Exodus). We all want to see our children succeed in life. The God Investigator Series (I Spy GI) now has 100 Bible stories available. Each story has accompanying activities to supply you with all you need to have fun while learning valuable life lessons. The series is based on being investigators - examining the evidence (Bible story), interviewing witnesses who might have been there, taking up a challenge, and determining what this has to do with us today. Books can be used for individual reading, small group activities (kids clubs, Sunday school), Christian family fun times, or even as a subject for Christian home schooling. Used weekly this gives you almost two years supply (100 sessions). That is good value! Extra expense is minimal. Want to see what they are like? I Spy GI Free Gift is available for you to download (free). Each book includes stories, interviews, activities, memory verse activities, life applications, challenges, video clips, and helps for small group leaders and parents. Enjoy!
- Publisher


Meet the Author
Di Allen
Hi, I'm Grammy (Di Allen), the one who's put this all together. I love kids, and I love Jesus. I started teaching Sunday school as a young teenager. As the pastor's wife in small Australian churches for many years, I appreciate the need for good, inexpensive material. As the mother of four and grandmother of nine, I understand the advantages of good solid Christian foundations. We all want our kids to turn out well, don't we? How can we best help them along the path of life? My aim is to create an enjoyable experience for children - to interact and learn from the Bible the things that will be of benefit to them for their whole life. A good mix of the modern and the old fashioned will take the best from both worlds. The children's world is so different today - television and internet, mobile phones, computers, iPods and iPads, they have it all. But there are some of the things that we used to do that can still be enjoyed today. They might even be a novelty to the children! My philosophy is to get together and have fun. What could be better than having the children enjoy learning from God's word?
Other Titles In The "I Spy God Investigator Series" Series View All
$0.00

Nett


Available for immediate download.