I Suffer Not a Woman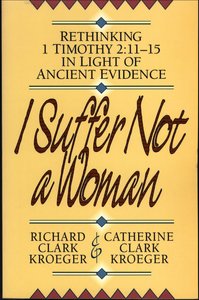 You May Also Be Interested In
Meet the Authors
Richard Kroeger
Kroeger is a retired pastor and college professor.
Catherine Clark Kroeger
Catherine Clark Kroeger (Ph.D., University of Minnesota) is adjunct associate professor of classical and ministry studies at Gordon-Conwell Theological Seminary. With James Beck, she edited Women, Abuse and the Bible and Healing the Hurting, and with Mary J. Evans she edited The IVP Women's Bible Commentary. She is a coauthor (with Nancy Nason-Clark) of No Place for Abuse, Refuge from Abuse, and with Richard Clark Kroeger I Suffer Not a Woman: Rethinking I Timothy 2:11-15 in Light of Ancient Evidence.