Ideas Library: Drama, Skits & Sketches 2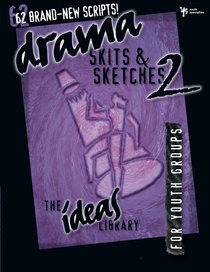 62 brand-new, tested scripts you can use to introduce topics with flair, retell Bible stories with humour, and apply your lessons with poignancy. These flexible scripts can be used as informal, no-prep readers' theatre or as seriously polished performances. 208 pages, from Zondervan
You May Also Be Interested In
About "Ideas Library: Drama, Skits & Sketches 2"
62 brand-new, tested scripts you can use to introduce topics with flair, retell Bible stories with humour, and apply your lessons with poignancy. These flexible scripts can be used as informal, no-prep readers' theatre or as seriously polished performances. 208 pages, from Zondervan
- Koorong


Here are 62 brand-new, youth-group-tested scripts you can use to introduce a topic with flair ... To retell a Bible story with humor ... To apply your lessons with poignancy. And they're flexible, too -- have fun with them as informal, no-prep reader's theater, or rehearse them seriously for polished performances. - Scripture Sketches ... Don't despair if your students can't tell the difference between Beelzebub and Barnabas -- the Bible will be brought to life for them as they act out scriptural episodes, stories, and passages. (And on page 6 is an index to all this book's scripts by Bible reference. Teaching the Prodigal Son? 1 Corinthians? Exodus? We've got a script for you!) - Contemporary Sketches ... Off with the togas, on with the tank tops. Here are right-now, real-life scripts for everything from event announcements (that you can tailor to your own events) to dealing with emotional scars. Thanks to the topical index on page 7, you can zip right to the script that fits your meeting. - TV Takeoffs ... In a TV world of talk shows and sitcoms, sketches based on TV shows always kick off lively discussions. Since all these scripts are also humorous, they're great as openers at camps and conferences, too. - Monologues ... Does your youth group's dramatic talent reside in only one or two students? Or do you want to raise interest in starting a drama ministry? A monologue is your ticket -- one-person scripts that require little or no costumes or props, yet can be as powerful as a three-act play. - To the Tune of CCM (And More) ... Take the music many of your students listen to, and use it for dramatic purposes! These scripts each use a song by a Christian artist (or a song whose lyrics encourage or challenge Christians).
- Publisher
Meet the Author
Youth Specialties
For over thirty years, Youth Specialties has worked alongside Christian youth workers of just about every denomination and youth-serving organization. We're here to help you, whether you're brand new to youth ministry or a veteran, whether you're a volunteer or a career youth pastor. Each year we serve more than 100,000 youth workers worldwide through our training seminars and conventions, resources, and on the Internet. SPANISH BIO: Por mas de treinta anos Especialidades Juveniles a trabajado con lideres de jovenes cristianos de todas las denominaciones. Estan alli para ayudarle, sin importar