Ideas Library: Special Events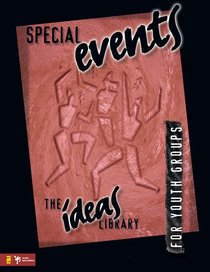 This series offers youth leaders a huge range of ready-to-use resources for every aspect of group ministry - games, skits, discussion topics, Bible lessons, meeting plans, special events, fundraising, publicity, and much more! Select what you need from the 14 volumes, or get all of it in a fully searchable CD-ROM software package. Branch out and bring some fresh life to your youth ministry!
You May Also Be Interested In
About "Ideas Library: Special Events"
This series offers youth leaders a huge range of ready-to-use resources for every aspect of group ministry - games, skits, discussion topics, Bible lessons, meeting plans, special events, fundraising, publicity, and much more! Select what you need from the 14 volumes, or get all of it in a fully searchable CD-ROM software package. Branch out and bring some fresh life to your youth ministry!
- Koorong

This essential book from The Ideas Library contains more than 400 creative events for community building, outreach, and fun!
- Publisher

Special Events Copyright 1997 by Youth Specialties Youth Specialties products, 300 S. Pierce St., El Cajon, CA 92020, are published by Zondervan, 5300 Patterson Ave. S.E., Grand Rapids, MI 49530. Unless otherwise noted, all Scripture quotations are taken from the Holy Bible: New International Version (North American Edition). Copyright 1973, 1978, 1984 by International Bible Society. Used by permission of Zondervan. The material in this book may be photocopied for local use in churches, youth groups, and other Christian education activities. Special permission is not necessary. Otherwise, the contents of this book may not be reproduced, stored in a retrieval system, or transmitted in any form or by any means-electronic, mechanical, photocopy, recording, or any other-without the prior permission of the publisher. All rights reserved. Ideas in this book have been voluntarily submitted by individuals and groups who claim to have used them in one form or another with their youth groups. Before you use an idea, evaluate it for its suitability to your own group, for any potential risks, for safety precautions that must be taken, and for advance preparation that may be required. Youth Specialties, and Zondervan are not responsible for, nor have any control over, the use or misuse of any of the ideas published in this book. Project editor: Vicki Newby Cover and interior design: Curt Sell Art director: Mark Rayburn Printed in the United States of America 05 06 07 08 09 10 - 14 13 12 11 10 9 & SPORTS EVENTS The thrill of victory and the agony of defeat can be yours with a well-planned game night or sports event. For the most part, you don't have to be a jock to have fun playing these. For games that are part of a larger theme event, see "Theme Events" on page 95. All-Church Olympics Here's a way for your church to have its own summer Olympic games. Place participants in nations or countries (or just make the youth group one country and the rest of the church the other country). Create an Olympic committee to organize and schedule events over a period of a month, with different events slated for each week. Kick things off with an opening ceremony; fi nish with a closing ceremony. Purchase or create awards (gold, silver, and bronze medals) for the winners in each event. Events can include both individual and team competition-volleyball, racquetball, tennis, pool, bowling, ping-pong, tug-of-war, Frisbee throwing, cow chip tossing, anything that you can think up. Provide horseshoes and dart games for the more sedentary crowd, relays and bike contests for children, and especially competitive games for teens and active adults. These Olympics can truly perk up a dull summer and draw together your entire congregation. John Herbert Jaffry Bat and Putt Night Rent a miniature golf course and batting cages in your area for about two hours so you can have it to yourselves. Create extra excitement by guaranteeing special prizes for all winners. Here's how to arrange your competition: Divide your teens into groups at different competitive levels:(junior high girls, junior high boys, senior high girls, senior high boys) so that each person competes with those near his or her own level. The competitions can be arranged in several categories such as- - Golf score for whole round - Holes-in-one - Best score left-handed - Highest number of strokes on one hole - Highest number of strokes for a whole round (These last two categories are for those who aren't as skilled as the others.) If you have batting cages, you can add two more categories to your competition: - Most hits in 25 tries - Most consecutive hits For each category you should award four minor prizes. Then four grand p
- Publisher


Meet the Author
Youth Specialties
For over thirty years, Youth Specialties has worked alongside Christian youth workers of just about every denomination and youth-serving organization. We're here to help you, whether you're brand new to youth ministry or a veteran, whether you're a volunteer or a career youth pastor. Each year we serve more than 100,000 youth workers worldwide through our training seminars and conventions, resources, and on the Internet. SPANISH BIO: Por mas de treinta anos Especialidades Juveniles a trabajado con lideres de jovenes cristianos de todas las denominaciones. Estan alli para ayudarle, sin importar
Table Of Contents
1. Games And Sports Events

2. Scavenger Hunts

3. Treasure Hunts

4. Other Hunts

5. Theme Events

6. Food Events

7. Special Events With A Point

8. Outings & Overnighters

9. Races & Rallies

10. Other Parties & Special Events

207 Pages
Excerpt
Excerpt from: Ideas Library: Special Events
and SPORTS EVENTS The thrill of victory and the agony of defeat can be yours with a well-planned game night or sports event. For the most part, you don't have to be a jock to have fun playing these. For games that are part of a larger theme event, see 'Theme Events' on page 95. All-Church Olympics Here's a way for your church to have its own summer Olympic games. Place participants in nations or countries (or just make the youth group one country and the rest of the church the other country). Create an Olympic committee to organize and schedule events over a period of a month, with different events slated for each week. Kick things off with an opening ceremony; fi nish with a closing ceremony. Purchase or create awards (gold, silver, and bronze medals) for the winners in each event. Events can include both individual and team competition---volleyball, racquetball, tennis, pool, bowling, ping-pong, tug-of-war, Frisbee throwing, cow chip tossing, anything that you can think up. Provide horseshoes and dart games for the more sedentary crowd, relays and bike contests for children, and especially competitive games for teens and active adults. These Olympics can truly perk up a dull summer and draw together your entire congregation. John Herbert Jaffry Bat and Putt Night Rent a miniature golf course and batting cages in your area for about two hours so you can have it to yourselves. Create extra excitement by guaranteeing special prizes for all winners. Here's how to arrange your competition: Divide your teens into groups at different competitive levels:(junior high girls, junior high boys, senior high girls, senior high boys) so that each person competes with those near his or her own level. The competitions can be arranged in several categories such as--- * Golf score for whole round * Holes-in-one * Best score left-handed * Highest number of strokes on one hole * Highest number of strokes for a whole round (These last two categories are for those who aren't as skilled as the others.) If you have batting cages, you can add two more categories to your competition: * Most hits in 25 tries * Most consecutive hits For each category you should award four minor prizes. Then four grand prizes should be awarded to the kids who have done the best in all categories. To determine this you have to establish a system of points awarded for their scores: number of hits, holes-in-one, and so on. Or you could ask if the owner of the golf and batting course will give you some free passes (assuming that you pay him a fair price for your evening's fun). If he does, you can award them to kids who meet the challenges you set before them, such as making a certain putt or making holes-inone. Another aspect of having a successful evening rests in your ability to sell it to the kids. Advertise it with posters saying 'First Annual (City or youth group name) Golf Open and Batting Championships.' Build it up, excite the kids, and prepare to have a great time. Doug Graham Bicycle Pedalmonium Day This is a fun event that can involve the entire youth department in an exciting day full of bike activities. * Bicycle Olympics. Divide the group into four competing groups if you have junior high through college age involved: junior high boys, junior high girls, senior high and college boys, senior high and college girls. Points and prizes can be awarded the winners in each division. Some sample events: --100-Yard Dash. A race for time. Use a stopwatch. --20-Lap Endurance Race. Should be about fi ve miles on a regular quarter-mile track. Award points to fi rst through fi fth places. --Bicycle Demolition. Have all bike riders form a circle about 100 feet in diameter. They may each have all the water balloons they can carry (stuffed in shirts, pockets, etc.). When the whistle blows, they all interweave in the circle and let each other have it! --Bike Jousting. Bike riders ride toward each other in parallel lanes. Each rider gets a water balloon. The object is to ride by your opponent and hit him with the balloon, without getting hit yourself. Winners advance. --Bike Pack. See how many can fi t on a bike and still go 10 feet. --Figure Eight Race. Set up a fi gure-eight track. Contestants ride it, one at a time, for best clocked time. --Obstacle Race. Set up a track with obstacles --- mud, trees, or whatever --- to make riding diffi cult. Include anything you want. The rougher the better. From a starting point, bikes compete for time. On the trail have a Long Jump (4-inch log that the bike must jump over), Tight Rope (a 2x6 that is 12 feet long and about six inches off the ground), a Limbo Branch (low tree branch or board about 10 inches above the handle bars), and a Tire Weave (eight or ten old tires set up in a row about six feet apart). The one who completes the course in the fastest time wins. You can make penalties for those who mess up on some of the obstacles. --Baton Relay. Ride bikes across the parking lot and hand off baton to next rider on the team. --Slalom Race. Time kids as they ride bikes through a slalom course. Have a stopwatch on hand. --Snail Race. Mark off a narrow trail and riders must try to stay in the trail and ride as slowly as possible. Feet may not touch the ground. The rider with the longest time wins. --Straw Race. Place coke bottles all over the parking lot with drinking straws in them. Bike riders must ride up to the bottles, pick up the straws with their bare toes, then reach down with their hands and take it from their toes. * Bike Road Rally. This is a simple treasure hunt event in which teams of three to four bike riders must follow clues to reach a fi nal destination. By arranging for the teams to go different routes, yet ending up at the same place, they won't be able to follow each other. The fi rst team to fi nish the course is declared the winner. This should take about an hour. * Bike Tour. Last on the activity list is a bike ride to a not-too-distant park or beach for a hamburger and hot-dog feed. Make sure participants have appropriate safety gear. Ken Etley, Roger Disque and Nancy Thompson Bowling Awards Does your youth group enjoy bowling? If so, here's how to make an average bowling night much more interesting. Print up some awards like the one pictured here, and give them for categories like these: * Most strikes * Low game * Most expressionless bowler * Greatest hope for the pro tour * Most creative shot of the night * Best form (male/female) * Most gutter balls * High game (male/female) * Sore loser award Paul E.B. Gruhn