I'm More Than the Pastor's Wife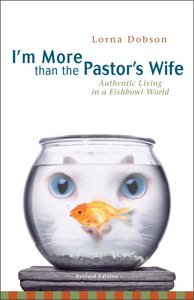 This revised edition confronts the unique challenges facing pastors' wives with a combination of serious advice and humor and a good balance of scriptural basis, personal illustration, honesty, and sincerity.

- Publisher Lorna Dobson knows firsthand the struggles and joys of being married to a pastor-and the questions, not the least of which is, "What is a 'pastor's wife,' anyway?" As her poll of hundreds of women reveals, the wife of a minister is rarely the piano-playing, committee-leading stereotype. With humor, disarming genuineness, personal stories, and wisdom rooted in Scripture, Dobson cuts through the labels. "How I live has little to do with whether my husband is a pastor; rather, my life reflects my growth, or lack of it, as a Christian." In this revised edition of I'm More Than the Pastor's Wife, she includes new perspectives as a grandparent, soon-to-be empty-nester, and speaker. Here are frontline insights on Making friends and cultivating personal support outside the church Learning to handle expectations and pressures Balancing time and using your gifts Supporting your husband and growing closer to him Prioritizing prayer for your husband, family, and church Knowing your capabilities and limits Dealing with "problem people" and church conflicts . . . and much more!

- Publisher A serious yet good humored look at the unique challenges facing pastors9 wives in the 21st century. Pastor9s wives confront unique challenges, both as wives of a public figure and as members of the congregation. Lorna Dobson, whose husband, Ed, is senior pastor of Calvary Church in Grand Rapids, MI, speaks from experience. In this open and caring discussion she addresses the dynamics that pastors9 wives face in a church culture that is in transition to a new era in the 21st century. Dobson9s writing has been praised for its combination of good humor and serious advice and for its balance of scriptural basis, personal illustrations, honesty, and sincerity. In this revised edition she draws on fresh experiences and mature reflection. Here she delves further into the ways wives can support their husbands9 ministries, and she explores the dynamics of dealing with "problem people" and conflicts between pastor and congregation. "Although this book is an easy read, Dobson isn9t always easy on readers, using a tone of gentle exhortation .[She] is well read and includes great quotes from authors .This book will help any pastor9s wife wanting to fine-tune her role." Bookstore Journal

- Publisher
You May Also Be Interested In
About "I'm More Than the Pastor's Wife"
This revised edition confronts the unique challenges facing pastors' wives with a combination of serious advice and humor and a good balance of scriptural basis, personal illustration, honesty, and sincerity.
- Publisher

Lorna Dobson knows firsthand the struggles and joys of being married to a pastor-and the questions, not the least of which is, "What is a 'pastor's wife,' anyway?" As her poll of hundreds of women reveals, the wife of a minister is rarely the piano-playing, committee-leading stereotype. With humor, disarming genuineness, personal stories, and wisdom rooted in Scripture, Dobson cuts through the labels. "How I live has little to do with whether my husband is a pastor; rather, my life reflects my growth, or lack of it, as a Christian." In this revised edition of I'm More Than the Pastor's Wife, she includes new perspectives as a grandparent, soon-to-be empty-nester, and speaker. Here are frontline insights on Making friends and cultivating personal support outside the church Learning to handle expectations and pressures Balancing time and using your gifts Supporting your husband and growing closer to him Prioritizing prayer for your husband, family, and church Knowing your capabilities and limits Dealing with "problem people" and church conflicts . . . and much more!
- Publisher

A serious yet good humored look at the unique challenges facing pastors9 wives in the 21st century. Pastor9s wives confront unique challenges, both as wives of a public figure and as members of the congregation. Lorna Dobson, whose husband, Ed, is senior pastor of Calvary Church in Grand Rapids, MI, speaks from experience. In this open and caring discussion she addresses the dynamics that pastors9 wives face in a church culture that is in transition to a new era in the 21st century. Dobson9s writing has been praised for its combination of good humor and serious advice and for its balance of scriptural basis, personal illustrations, honesty, and sincerity. In this revised edition she draws on fresh experiences and mature reflection. Here she delves further into the ways wives can support their husbands9 ministries, and she explores the dynamics of dealing with "problem people" and conflicts between pastor and congregation. "Although this book is an easy read, Dobson isn9t always easy on readers, using a tone of gentle exhortation .[She] is well read and includes great quotes from authors .This book will help any pastor9s wife wanting to fine-tune her role." Bookstore Journal
- Publisher


Meet the Author
Lorna Dobson
Lorna Dobson is a member of Calvary Church, Grand Rapids, MI, where her husband retired as senior pastor after 18-1/2 years.