I'm No Angel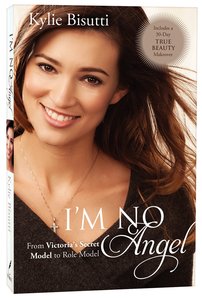 In December 2011, 21-year-old Victoria's Secret Runway Angel Kylie Bisutti stunned the fashion industry when she chose faith over fame and fortune and made the switch from supermodel to role model.

In I'm No Angel, Kylie shares her story-from her early years as she struggled to make it big in the cutthroat world of modeling, to her "big break" winning the Victoria's Secret Runway Angel competition, to the disillusionment and spiritual warfare that followed. After finally realizing that she could no longer reconcile her career with her Christian beliefs, she surrendered her life to God and dedicated her life to preaching a message of modesty and inner beauty.

Along the way, Kylie talks about her personal struggles with inadequacy, low self-esteem, and her near-constant quest for approval in a world where you can never be thin enough, pretty enough, or sexy enough. She helps readers understand that true beauty lies within and that real fulfillment comes from knowing, loving, and serving Christ.

- Publisher
You May Also Be Interested In
About "I'm No Angel"
In December 2011, 21-year-old Victoria's Secret Runway Angel Kylie Bisutti stunned the fashion industry when she chose faith over fame and fortune and made the switch from supermodel to role model.

In I'm No Angel, Kylie shares her story-from her early years as she struggled to make it big in the cutthroat world of modeling, to her "big break" winning the Victoria's Secret Runway Angel competition, to the disillusionment and spiritual warfare that followed. After finally realizing that she could no longer reconcile her career with her Christian beliefs, she surrendered her life to God and dedicated her life to preaching a message of modesty and inner beauty.

Along the way, Kylie talks about her personal struggles with inadequacy, low self-esteem, and her near-constant quest for approval in a world where you can never be thin enough, pretty enough, or sexy enough. She helps readers understand that true beauty lies within and that real fulfillment comes from knowing, loving, and serving Christ.
- Publisher


Customer Reviews For "I'm No Angel"
Write Your Own Review
Brilliant Biography
By Jacqui,

Jun 01 2015
I finished this book and handed it straight to my 14yr old daughter to read and told some other mum's of teenage girls about it. Kylie Bisutti shares her journey into the modelling world from a child until when she chooses to give it all up and become a woman who lives a life in a way that brings glory to God. Kylie shares with honesty and vulnerability. I loved how she explains why she made various choices along the way and how that affected the next part of her journey. All through her story God is very active. I wanted my daughter to read it as it addresses choices girls make in response to the world's view of beauty and clearly shows what true beauty really is. Personally I would say this is a must read especially for teenage girls but for all women as well.
---
Must Read for Women
By Hannah,

May 26 2015
This book was so different than I expected, in a good way! To be honest, I probably wouldn't have read it if someone else hadn't recommended it to me. And I would have definitely missed out! It was absolutely incredible!

Well written and really easy to read but with such timely advice for girls (women of all ages, really!) the whole way through. It's Kylie's story, but also the real story behind the beauty we all think exists. 

The story was interesting (challenging, eye opening...) but what I loved most was the way Kylie never blamed anyone for the choices she made, even herself. In retrospect, she could see they were bad, but she could also see - at every point - how God was using that moment for him. There is hope on every page. Through every chapter, good or bad, God was there. 

Loved the 30 day Beauty Bible study at the end too - a perfect way to make it not just Kylie's story but the reader's as well.  Absolutely incredible and a must read for women of all ages. Will definitely be recommending this book to everyone I meet!

---
WOW!
By Brooke,

Apr 03 2015
After reading this book I can suddenly see how the devil uses the modelling industry to teach you that you are...
never thin enough
never toned enough
never tanned enough
never pretty enough
And how the only way you will be truly confident in who you are is not through man's praise, but through the unconditional love of Christ.

This book was a God-send. And I definitely recommend it as a MUST READ for all females of all ages. Don't let the devil torment your mind any longer with thoughts of insecurity, read the book; you won't regret it
---
God's Grace at Work
By Lizzy ,

Dec 10 2014
.This book shows the power of God's Grace to help us walk into our destinies and it shows God taking a situation that many conservative Christians would look at as messy and turning it into something beautiful.  Even when we think we are walking in God's path, He gives us grace to walk in higher places.  
{{review.title}}
By {{review.author.name}},

{{review.reviewCreatedDate | date:'MMM dd yyyy'}}

{{reviewdescription}}
{{review.text}}
---