Imagine Heaven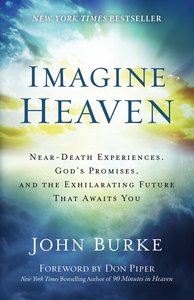 It's obvious from the bookshelves and the big screen that heaven is on everyone's mind. All of us long to know what life after death will be like. Bestselling author John Burke is no exception. For decades, he has been studying accounts of people who have had near-death experiences (NDEs). While not every detail of individual NDEs correlate with Scripture, Burke shows how the common experiences shared by thousands of survivors clearly point to the God of the Bible and the exhilarating picture of heaven he promises.

Imagine Heaven is an inspirational journey through the Bible's picture of heaven, colored in with the real-life stories of heaven's wonders. Burke compares gripping stories of NDEs to what Scripture says about our biggest questions of heaven: Will I be myself? Will I see friends and loved ones? What will it look like? What is God like? What will we do forever? What about children and pets? This book will propel readers into an experience that will forever change their view of the life to come and the way they live life today. It also tackles the tough questions of heavenly reward and hellish NDEs. Anyone interested in NDEs or longing to imagine heaven more clearly will enjoy this fascinating and hope-filled book.

- Publisher
You May Also Be Interested In
About "Imagine Heaven"
It's obvious from the bookshelves and the big screen that heaven is on everyone's mind. All of us long to know what life after death will be like. Bestselling author John Burke is no exception. For decades, he has been studying accounts of people who have had near-death experiences (NDEs). While not every detail of individual NDEs correlate with Scripture, Burke shows how the common experiences shared by thousands of survivors clearly point to the God of the Bible and the exhilarating picture of heaven he promises.

Imagine Heaven is an inspirational journey through the Bible's picture of heaven, colored in with the real-life stories of heaven's wonders. Burke compares gripping stories of NDEs to what Scripture says about our biggest questions of heaven: Will I be myself? Will I see friends and loved ones? What will it look like? What is God like? What will we do forever? What about children and pets? This book will propel readers into an experience that will forever change their view of the life to come and the way they live life today. It also tackles the tough questions of heavenly reward and hellish NDEs. Anyone interested in NDEs or longing to imagine heaven more clearly will enjoy this fascinating and hope-filled book.
- Publisher


Meet the Author
John Burke
John Burke and his wife, Kathy, founded Gateway Church in Austin, Texas, in 1998. Since then, Gateway has grown to over 3,000 people, 70 percent of whom are in their twenties and thirties, and consists mostly of unchurched people who began actively following Christ at Gateway. Burke is also the author of No Perfect People Allowed: Creating a Come-as-You-Are Culture in the Church and Soul Revolution He has contributed the chapter "The Emerging Church and Incarnational Theology" in Listening to the Beliefs of Emerging Churches.
{{review.title}}
By {{review.author.name}},

{{review.reviewCreatedDate | date:'MMM dd yyyy'}}

{{reviewdescription}}
{{review.text}}
---