Immanuel's Veins (Unabridged, Mp3)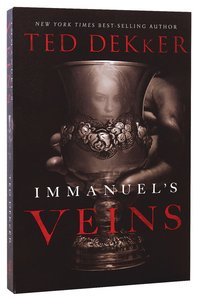 At the Threshold Of Darkness, Redemption Awaits.It is 1772 and the world is at war. Or so it seems to Toma Nicolescu, a highly ranked warrior for the Russian Army. By order of the Empress Catherine herself, Toma has been dispatched to Moldavia to protect two women who are pivotal to Russian interests in the region. The twins Lucine and Natasha Cantemir must come to no harm.Toma's loyalty to his Empress is without question, but when he meets Lucine he is shocked by the feelings her beauty awakens within him. Putting duty first, Toma forsakes his heart and confesses nothing to Lucine. But the duke Vlad van Valerik has noticed her as well. Vlad is handsome, wealthy, and seems to enchant all who surround him. Including Lucine.Toma travels to Vlad's estate to learn more about the man ... and to rescue Lucine if necessary. There Toma witnesses things that baffle and unnerve him. The entire castle is pulsing with an incredible sense of freedom, yet there is something darker at play. A palpable evil.Fighting for the life and soul of his true love, Toma enters into a battle that has raged since the dawn of time. A battle where in order to win you must surrender. And to live, you must first die.

- Publisher
You May Also Be Interested In
About "Immanuel's Veins (Unabridged, Mp3)"
At the Threshold Of Darkness, Redemption Awaits.It is 1772 and the world is at war. Or so it seems to Toma Nicolescu, a highly ranked warrior for the Russian Army. By order of the Empress Catherine herself, Toma has been dispatched to Moldavia to protect two women who are pivotal to Russian interests in the region. The twins Lucine and Natasha Cantemir must come to no harm.Toma's loyalty to his Empress is without question, but when he meets Lucine he is shocked by the feelings her beauty awakens within him. Putting duty first, Toma forsakes his heart and confesses nothing to Lucine. But the duke Vlad van Valerik has noticed her as well. Vlad is handsome, wealthy, and seems to enchant all who surround him. Including Lucine.Toma travels to Vlad's estate to learn more about the man ... and to rescue Lucine if necessary. There Toma witnesses things that baffle and unnerve him. The entire castle is pulsing with an incredible sense of freedom, yet there is something darker at play. A palpable evil.Fighting for the life and soul of his true love, Toma enters into a battle that has raged since the dawn of time. A battle where in order to win you must surrender. And to live, you must first die.
- Publisher


Meet the Author
Ted Dekker
Ted Dekker is known for novels that combine adrenaline-laced stories with unexpected plot twists, unforgettable characters, and incredible confrontations between good and evil. The son of missionaries, he grew up in the jungles of Indonesia. He returned to the United States to attend Evangel College, graduating with a religion & philosophy major. After several years in corporate marketing, in 1997 he began writing books like Heaven's Wager now he has written numerous books including bestsellers Skin, In the Blink of an Eye, Saint and Thr3e. Ted lives in Austin with his wife LeeAnn and their four children. Most recently he has published Kiss and Immanuel's Veins
-Editorial Review.
Customer Reviews For "Immanuel's Veins (Unabridged, Mp3)"
Write Your Own Review
Must read!
By Jessica,

May 21 2013
Immanuel's Veins is a novel birthed out of the extremely conflicting themes of transgressing desire and love in it's truest form.
The adrenaline-laced pages fill the reader with a breathtaking desire for more. This unique novel is an impressive progression from a lust story into one of the purest love. Through reading, one further uncovers the heart of Jesus, while also learning the worldly value of 'love'. This novel uncovers the devil's schemes, our own darkest desires, and a heavenly viewpoint on it all. The novel is a roller-coaster through revelations, desires and values which finally close in one establishment, agape, being undeserved, unchanging, and pure love. Until the last pages the question is begged, can love overcome any kind of evil, and if it can... Do we actually see the evil for what it really is?
{{review.title}}
By {{review.author.name}},

{{review.reviewCreatedDate | date:'MMM dd yyyy'}}

{{reviewdescription}}
{{review.text}}
---