Immeasurably Deeper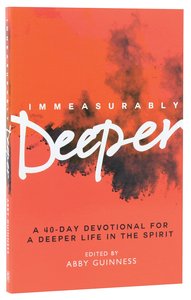 $

14.99

$

11.99
You Save: $3.00 (20%)
Paperback
The Bible encourages us to be like deeply-rooted trees, reaching towards God's living waters for our daily sustenance, and our strength in drought. But in a non-stop world we grow accustomed to living in the shallows, grabbing refreshment when we can and sprinting on. Under such pressure, we produce less in the way of spiritual fruit. More than ever we need to find a regular rhythm of drinking the living water that Jesus offers. This 40-day devotional encourages us to dig deeper, to immerse ourselves in refreshing rhythms of life, to receive more of the power of the Spirit. Each section focuses on a different area of life or spiritual discipline and offers a short Bible passage, a reflection, an action and a prayer. Immeasurably Deeper will assist you to discover a new awareness of the Holy Spirit's presence, and renewed fruitfulness in his empowering.

- Publisher
You May Also Be Interested In
About "Immeasurably Deeper"
The Bible encourages us to be like deeply-rooted trees, reaching towards God's living waters for our daily sustenance, and our strength in drought. But in a non-stop world we grow accustomed to living in the shallows, grabbing refreshment when we can and sprinting on. Under such pressure, we produce less in the way of spiritual fruit. More than ever we need to find a regular rhythm of drinking the living water that Jesus offers. This 40-day devotional encourages us to dig deeper, to immerse ourselves in refreshing rhythms of life, to receive more of the power of the Spirit. Each section focuses on a different area of life or spiritual discipline and offers a short Bible passage, a reflection, an action and a prayer. Immeasurably Deeper will assist you to discover a new awareness of the Holy Spirit's presence, and renewed fruitfulness in his empowering.
- Publisher


Meet the Author
Abby Guinness
Abby Guinness is an experienced actress and performer who trained at the Royal Welsh College of Music & Drama. Since 2001 she has appeared in numerous plays and stage shows in the UK, and heads up the arts for Spring Harvest. She performs her first book The Word Of The Wives as an acclaimed one-woman show. Abby is a seasoned public speaker and uses her expertise to train others in communication skills. Her clients include the National Health Service and the Church of England, as she specialises in GPs and Clergy. Abby also works extensively in creative Bible communication, blogging under the name 'Living and Active'.