Improving Your Serve (Contemporary Classics Series)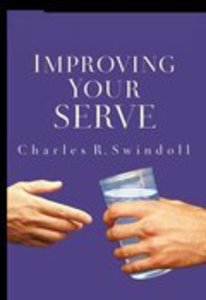 In this classic volume, Charles Swindoll uniquely shows the important aspects of authentic servanthood, such as:

What it takes to serve unselfishly

Why a servant has such a powerful influence

What challenges and rewards a servant can expect

He offers clear guidelines on developing a servant's heart and challenges you to realize the rich rewards promised in a life of authentic Christian servanthood.


- Publisher 256 Pages

- Publisher Meet the monument of self. It's what most people spend the majority of their lives building. This book is for those ready to assault that monument. Ready to give their full attention to what it means to be different. If you're prepared to invest more than most...if you really desire more than three dollars worth of God, then this could be the start of a journey that will forever change your life. This special edition book celebrates one of the most classic messages of our day. Charles Swindoll's timeless work on serving others has inspired and encouraged hundreds of thousands of Christians through the years. Experience the art of unselfish living as you learn to "improve your serve." Book jacket.

- Publisher
You May Also Be Interested In
About "Improving Your Serve (Contemporary Classics Series)"
In this classic volume, Charles Swindoll uniquely shows the important aspects of authentic servanthood, such as:

What it takes to serve unselfishly

Why a servant has such a powerful influence

What challenges and rewards a servant can expect

He offers clear guidelines on developing a servant's heart and challenges you to realize the rich rewards promised in a life of authentic Christian servanthood.

- Publisher

256 Pages
- Publisher

Meet the monument of self. It's what most people spend the majority of their lives building. This book is for those ready to assault that monument. Ready to give their full attention to what it means to be different. If you're prepared to invest more than most...if you really desire more than three dollars worth of God, then this could be the start of a journey that will forever change your life. This special edition book celebrates one of the most classic messages of our day. Charles Swindoll's timeless work on serving others has inspired and encouraged hundreds of thousands of Christians through the years. Experience the art of unselfish living as you learn to "improve your serve." Book jacket.
- Publisher


Meet the Author
Charles Swindoll
Charles R. Swindoll is senior pastor of Stonebriar Community Church, Frisco, Texas, and host of a leading program in Christian broadcasting, Insight for Living which airs in major Christian and non-Christian radio markets throughout the world and to a growing web-cast audience.
Chuck's extensive writing ministry has also served the body of Christ worldwide, He has written more than thirty best-selling books, such as Strengthening Your Grip; Laugh Again, and the Great Lives series, including Paul: A Man of Grace and Grit.
His leadership as president and now chancellor of Dallas Theological Seminary has helped prepare and equip a new generation for ministry. Chuck and Cynthia, his partner in life and ministry, have four grown children and ten grandchildren.
-Publisher.


Other Titles In The "Contemporary Classics" Series