In Charge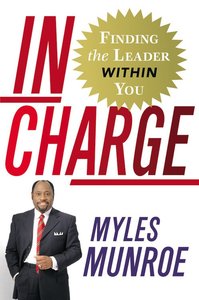 International motivational speaker and sought-after businesss consultant Reverend Myles Munroe proves that true leaders empower others to discover their own leadership gifts.

- Publisher Popular convention teaches that there are leaders and then there are followers. This book shatters that myth. Everyone, asserts Monroe, is a leader. IN CHARGE shows us how our own distinct talents and abilities are meant for application in the arena in which we are meant to lead. Using liberating concepts of Christian spirituality, Monroe recasts leadership as a process of self-revelation, discovery of community, livelihood and empowerment of others.

- Publisher We need to understand that the state of the world is the product of leadership throughout history. Our global, national, and community conditions are simply proof that the nature, quality, and characteristics of leadership mankind has produced over the years have not served us well. A vacuum exists-lack of proper, effective, efficient, spiritually sensitive, genuine leadership-on all levels.

- Publisher
You May Also Be Interested In
About "In Charge"
International motivational speaker and sought-after businesss consultant Reverend Myles Munroe proves that true leaders empower others to discover their own leadership gifts.
- Publisher

Popular convention teaches that there are leaders and then there are followers. This book shatters that myth. Everyone, asserts Monroe, is a leader. IN CHARGE shows us how our own distinct talents and abilities are meant for application in the arena in which we are meant to lead. Using liberating concepts of Christian spirituality, Monroe recasts leadership as a process of self-revelation, discovery of community, livelihood and empowerment of others.
- Publisher

We need to understand that the state of the world is the product of leadership throughout history. Our global, national, and community conditions are simply proof that the nature, quality, and characteristics of leadership mankind has produced over the years have not served us well. A vacuum exists-lack of proper, effective, efficient, spiritually sensitive, genuine leadership-on all levels.
- Publisher


Meet the Author
Myles Munroe
Dr. Myles Munroe (1954-2014) was an ordained Pentecotal minister, the Founder, President, and Senior Pastor of Bahamas Faith Ministries International, an all-encompassing network of ministries headquartered in Nassau, Bahamas. He was a multi-gifted international motivational speaker, prolific best-selling author and sought-after business consultant. His books and presentations comprehensively address many aspects of human, social and spiritual development.