In Every Heartbeat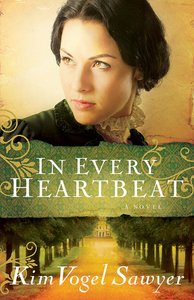 As three friends who grew up in the same orphanage head off to college together, they each harbor a cherished dream. Libby wishes to become a famous journalist, Pete plans to study to become a minister, and Bennett wants to join a fraternity and have as much fun as possible. But as tensions rise around the world on the brink of World War I, the friends' differing aspirations and opinions begin to divide them, as well. And when Libby makes a shocking discovery about Pete's family, will it drive a final wedge between the friends or bond them in ways they never anticipated?

- Publisher
You May Also Be Interested In
About "In Every Heartbeat"
As three friends who grew up in the same orphanage head off to college together, they each harbor a cherished dream. Libby wishes to become a famous journalist, Pete plans to study to become a minister, and Bennett wants to join a fraternity and have as much fun as possible. But as tensions rise around the world on the brink of World War I, the friends' differing aspirations and opinions begin to divide them, as well. And when Libby makes a shocking discovery about Pete's family, will it drive a final wedge between the friends or bond them in ways they never anticipated?
- Publisher


Meet the Author
Kim Vogel Sawyer
Bestselling, award-winning author Kim Vogel Sawyer wears many hats besides 'writer.' As a wife, mother, grandmother, and active participant in her church, her life is happily full. But Kim's passion lies in writing stories of hope that encourage her readers to place their lives in God's capable hands. An active speaking ministry assists her with her desire. Kim and her husband make their home on the beautiful plains of Kansas, the setting for many of Kim's novels.