In Glacier Bay, Alaska (Love Finds You Series)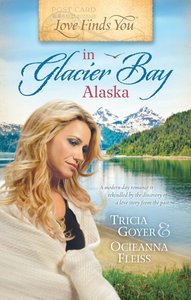 Singer Ginny Marshall is one signature away from the recording contract of her dreams?a deal that would guarantee success for the former foster child, who still struggles to bury the memories of her painful childhood. But Ginny needs advice from the one person who will look out for her best interests?her former fianc?, Brett Miller. She travels to the remote town of Glacier Bay, Alaska, where the town's colorful characters and stunning scenery provide respite from LA's pressures. In Glacier Bay, Ginny discovers a box of old letters and is swept up in the love story between Clay, an early missionary to Alaska Territory, and Ellie, the woman who traveled there to be his children's governess. When Ginny is reunited with Brett in Glacier Bay, will she discover?as Ellie did?that healing and love are sometimes found in the most unexpected places?

- Publisher
You May Also Be Interested In
About "In Glacier Bay, Alaska (Love Finds You Series)"
Singer Ginny Marshall is one signature away from the recording contract of her dreams?a deal that would guarantee success for the former foster child, who still struggles to bury the memories of her painful childhood. But Ginny needs advice from the one person who will look out for her best interests?her former fianc?, Brett Miller. She travels to the remote town of Glacier Bay, Alaska, where the town's colorful characters and stunning scenery provide respite from LA's pressures. In Glacier Bay, Ginny discovers a box of old letters and is swept up in the love story between Clay, an early missionary to Alaska Territory, and Ellie, the woman who traveled there to be his children's governess. When Ginny is reunited with Brett in Glacier Bay, will she discover?as Ellie did?that healing and love are sometimes found in the most unexpected places?
- Publisher


Meet the Authors
Tricia Goyer
Tricia Goyer has written hundreds of articles, Bible Study notes, and both fiction and non-fiction books, including From Dust and Ashes, Night Song, Arms of Deliverance, and Generation Next Parenting.
She was named Mount Hermon Christian Writers' Conference "Writer of the Year" in 2003. In 2005, her book Life Interrupted was a finalist for the Gold Medallion and her novel Night Song won ACFW's Book of the Year for Long Historical Romance.
In addition to writing, Tricia enjoys sharing Jesus' love through volunteering as a mentor for teenage mothers in her community. She also joins the rest of her family, leading children's church every week, and travels throughout the United States as a speaker, mainly giving presentations to women's groups.
Ocieanna Fleiss
OCIEANNA FLEISS is a published author and editor. She lives with her husband and their four children in the Seattle area.
Other Titles In The "Love Finds You Series" Series