In Good Company (#02 in A Class Of Their Own Series)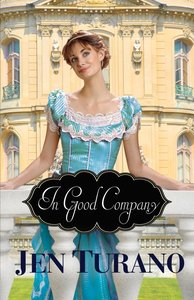 :The Next Delightful and Lively Historical Romp from Turano

After spending her childhood in an orphanage, Millie Longfellow is determined to become the best nanny the East Coast has ever seen. Unfortunately, her playfulness and enthusiasm tend to bring about situations that have employers looking askance at her methods. After her most recent dismissal, Millie is forced to return yet again to an employment agency.

Everett Mulberry has suddenly and quite unexpectedly found himself responsible for three children he's never met. Attempting fatherhood while also pacifying the less-than-thrilled socialite he intends to marry is made even more complicated when the children scare off every nanny he hires. About to depart for Newport, Rhode Island, for the summer, he's desperate for competent childcare.

At wit's end with both Millie and Everett, the employment agency gives them one last chance--with each other. Everett is wary of Millie's penchant for disaster, and she's not entirely keen on another snobby, grumpy employer, but they're both out of options. As Millie falls in love with her mischievous charges and tries to stay one step ahead of them, Everett is more focused on achieving the coveted status of society's upper echelons. As he investigates the suspicious circumstances surrounding the children's parents' death, will it take the loss of those he loves to learn whose company he truly wants for the rest of his life?

- Publisher
You May Also Be Interested In
About "In Good Company (#02 in A Class Of Their Own Series)"
:The Next Delightful and Lively Historical Romp from Turano

After spending her childhood in an orphanage, Millie Longfellow is determined to become the best nanny the East Coast has ever seen. Unfortunately, her playfulness and enthusiasm tend to bring about situations that have employers looking askance at her methods. After her most recent dismissal, Millie is forced to return yet again to an employment agency.

Everett Mulberry has suddenly and quite unexpectedly found himself responsible for three children he's never met. Attempting fatherhood while also pacifying the less-than-thrilled socialite he intends to marry is made even more complicated when the children scare off every nanny he hires. About to depart for Newport, Rhode Island, for the summer, he's desperate for competent childcare.

At wit's end with both Millie and Everett, the employment agency gives them one last chance--with each other. Everett is wary of Millie's penchant for disaster, and she's not entirely keen on another snobby, grumpy employer, but they're both out of options. As Millie falls in love with her mischievous charges and tries to stay one step ahead of them, Everett is more focused on achieving the coveted status of society's upper echelons. As he investigates the suspicious circumstances surrounding the children's parents' death, will it take the loss of those he loves to learn whose company he truly wants for the rest of his life?
- Publisher


Meet the Author
Jen Turano
Jen Turano is a graduate of the University of Akron with a degree in Clothing and Textiles. She pursued a career in management for nine years before switching to full-time motherhood after the birth of her son. When she's not writing, Jen can be found watching her teenage son participate in various activities, taking long walks with her husband and dog, socializing with friends, or delving into a good book. She lives in suburban Denver, Colorado. Learn more at www.jenturano.com. A
Customer Reviews For "In Good Company (#02 in A Class Of Their Own Series)"
Write Your Own Review
Good fun romance
By Hannah,

Jun 20 2016
Jen Turano's books are such fun and this one is no exception! The main character, Millie, had me laughing from the first page as she tried to justify her somewhat unconventional nannying methods, to no avail. It felt like every time she was on the page, I was laughing, she was such fun! And, of course, her hero was just as gallant and easy to fall in love with. A beautiful, hilarious, crazy, sweet romance brilliantly written. Would highly recommend it!

---
Fun, fun, fun!
By Iola,

Jul 17 2015
Jen Turano is the author I save for those days when I want a lighthearted read, something that's going to entertain and amuse me without getting too much into the harsher side of life. Some days I want serious fiction with a message. Some days I don't. Those are Jen Turano days. She manages to write funny characters and situations without ever crossing the line into cringey, and that's a huge achievement. 

The characters were excellent. Millie was similar to other characters I've seen, in that she comes across as scatterbrained to the uninitiated, but has a heart of gold and her seemingly unconventional methods of childcare not only tame the children but serve a larger purpose in the plot. Everett was the somewhat foppish male who wants to do the right thing but doesn't know how. And the children. Well. A lot of authors get children wrong, with characters and personalities inconsistent with their ages, but Turano nails them, even though the children are every bit as idiosyncratic as the adults, especially Rosetta and her unusual pets. 

But it's not all fun. There are some serious messages hidden within In Good Company, particularly around how we are all valuable and how we need variety to teach us about life.Recommended for a lighthearted read with a message. 

Thanks to NetGalley for providing a free ebook for review.
{{review.title}}
By {{review.author.name}},

{{review.reviewCreatedDate | date:'MMM dd yyyy'}}

{{reviewdescription}}
{{review.text}}
---
Other Titles In The "A Class Of Their Own Series" Series